As Richard has already said, the weekend saw the third of the Plastic Fantastic Alpkit Kayak Series events of the year, at the Nene White Water Centre. Here's some more from the event…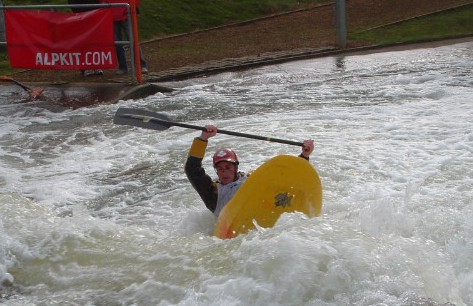 As with all the Alpkit events, there is a downriver head to head and a freestyle. The downriver started with a run over the bridge to the top of the course and then a race down. Being a C1 paddler, I took a bit of a gamble in my first downriver run and decided to not put my deck on and instead try and avoid getting as much water in my boat as possible.
Amazingly, I actually managed it (secretly I think all those years in an OC1 avoiding getting water in my boat helped…) and came in first in my first race. Unfortunately it didn't go so well in the second.
Richard did well in the 4-Twenty giving some of the creekers a run for their money but couldn't quite take the win.
 In the freestyle, Richard had some very smooth rides in the mens expert but couldn't quite make it through to the final finishing 8th. I managed to go through in 3rd place in my C1 against all the kayakers and was one only 3 people to break through 600 points with some nice super clean cartwheeling action.
In the final I had a bit of a nightmare 2nd ride so got knocked out in 4th. Still not bad for a C1 though. The 4-Twenty has been very faithful to me but I can't wait to actually get my hands on a Rev and taking things up a gear.
All in all it was a great event (thanks Jim) and I'm looking forward to the series final and the British Freestyle Championships next weekend.