This year has been all about new rivers and new adventures, in turn, I jumped at the opportunity to go on the Middle Fork of the Salmon.  I had never even been to Idaho before – this was truly a first for me.  The Middle Fork Salmon features over 100 miles of Class III-IV rapids that run within the Frank Church-River of No Return Wilderness.  The elevation begins at 7000ft and drops to just under 4000ft, this gives you constant gradient and eliminates large flatwater sections.  There are numerous hot springs along the way, some that you need to hike in to access (Sheepeater, Whitey Cox's and Loon Creek are all at a mile or less) while Sunflower and Hospital Bar are riverside hot springs.
Between May 28-September 3, a permit is required through the Four Rivers Lottery and Permit Reservation System while the pre and the post season launches are first-come, first-serve.  Getting a private permit to float the Middle Fork is notoriously difficult but you can easily avoid that by going through an outfitter.  We went through DeRiemer Adventure Kayaking and Northwest Rafting Company.  Paddling with Phil and Mary DeRiemer is always a favorite, plus I was able to meet and paddle with our other guide, Ben Morton.  We had a group of 18 kayakers, most of whom had done this every year, and most of whom were guys except for myself and my friend Becky.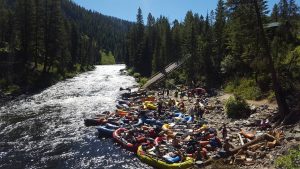 There are a combined total of seven commercial and recreational launches a day which make the put in at Boundary Creek very busy but well managed.  If it is your first time there, it will certainly surprise you when you walk down the path, we even launched after 4 groups had already left and it was still a shocker to see all the activity.
The water level was right under 3′ which is a perfect level for the first time and in the first few days there are plenty of the larger rapids- Sulfur Slide, Velvet Falls, Powerhouse, Pistol Creek and Tappan Falls, to challenge you and keep you on your toes.  The constant gradient allows the 15-25 mile paddling days to fly by and there are endless amounts of surf waves and eddies to catch along the way as well.  If you are not careful, you can easily paddle through dinner.  At 3′, the larger rapids were Class III+ although you could easily see that with more water they would become solid IV's with strong current, large holes and tight lines, they would also become continuous as many of the rapids would run into each other.  The rest of the rapids are all read and run, make your own lines with numerous options.
We were very lucky to get Marble Camp- it is a beautiful campsite with lots of space to spread out, trees for shade and trails along the river but best of all, you have Marble Wave right below you.  The best eddy to surf from is on river left, you can catch the top eddy if you aggressively cut left immediately after the drop, if not you can either catch the one right below and work your way back up or ferry across from river right. It is an amazing wave that you could easily spend all day at- I was lucky that in the morning, Miles was taking pictures and I was able to jump in his Jed and catch a couple quick surfs.  The rest of the morning, I stood in the lower eddy pulling boats up and guiding them into the top eddy.  Since I wasn't surfing it, I could help others get back up to the eddy, plus it is good river karma.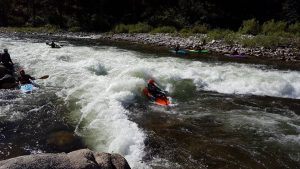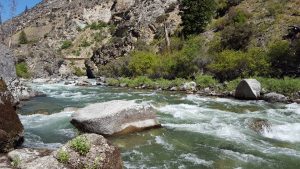 Big Creek was also flowing at a medium/low flow which gave us the perfect opportunity to hike the boats up and paddle it back down.  Kurt, Tristan, Jerry, Daryl, Brett and I decided to hike up along with our fearless leaders Phil and Ben.  It was a mile up to the bridge, which took some time even with the boats emptied out of any extra gear.  You can scout most of the rapids from the hike, the hardest rapids are the last one due to wood on the left side and the first one which is directly visible from the bridge.It is a beautiful creek that reminds me of the North Fork American back in California, the green hued, crystal clear rapids with boulders strewn throughout.  The mile plus of paddling went fast, before I knew it I saw the confluence of the Middle Fork Salmon.  Many people asked if it was worth the hike up, my answer was always a definite "yes!"
Overall, the Middle Fork Salmon is a great run and I would highly recommend it if you get the chance.  I know that we are already signed up again for next year!