Well what a weekend it was over in wet and windy Wales here in the UK for the Coaching Festival at the Tryweryn. Loads of people turned up for the event either for a boat down the river of for one of the many courses going on and the new Ammo and Recoil generated a lot of interest on the stand. It was the first time these new toys had really been seen in public and the Ammo in particular got loads of attention.
Luckily, being fairly short I managed to squeeze myself into the small pre-production boat and give it a whirl. I have to say that I'm not sure I have had so much fun in a boat for ages. Get the Ammo down the river and it's incredibly manouverable cutting in and out of eddies with ease using those seriously cool edges and short length. Get it on a wave however and it paddles just like a playboat. Spins, small sidekicks, blunts, you name it I'm sure this boat will do it!! In fact, I had about seven, "one last go's". I can't wait to get my paws on a larger one and giving it a spin.
Check out the pic below of me running a rarely run drop in the Ammo. Can you name it?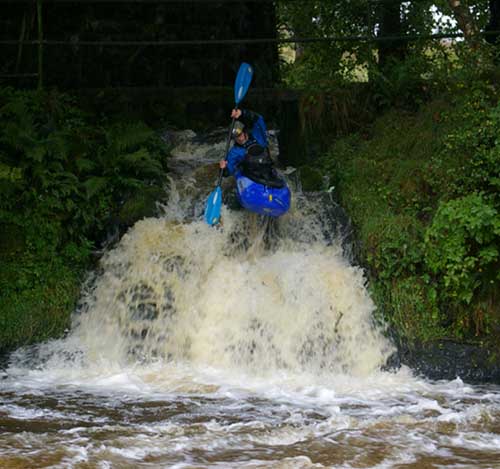 Photo by: Andy Marsh