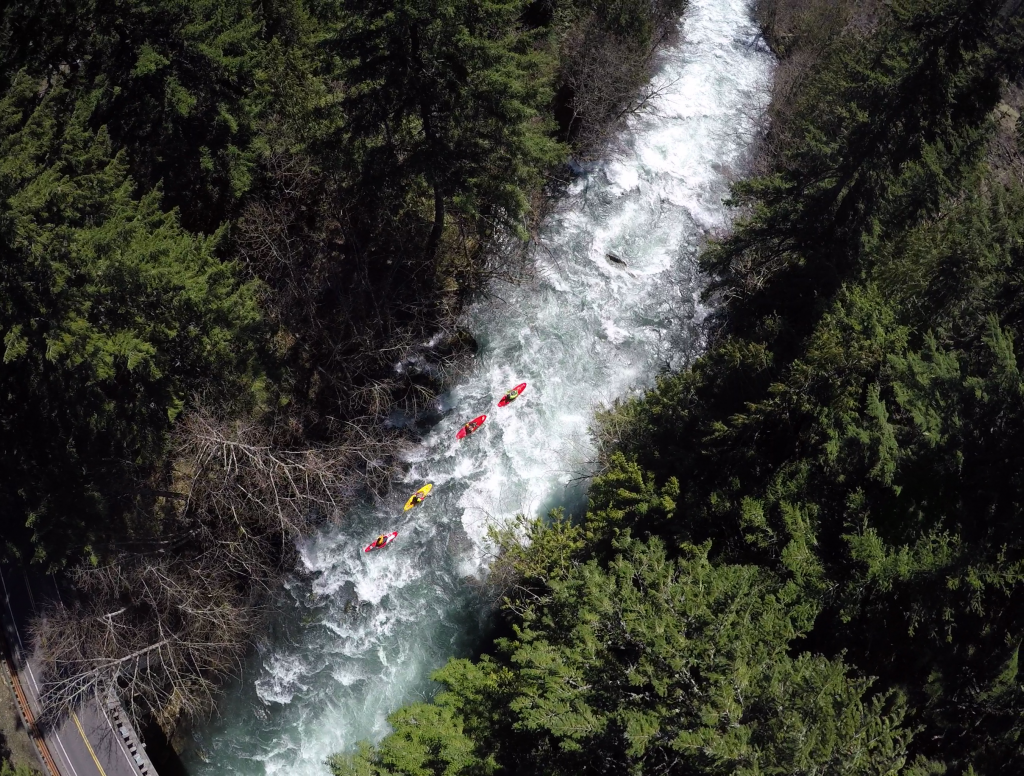 The Pacific North West has earned itself a reputation as one of the best destinations for kayaking in the world. Home to a diverse selection of rivers, slides and waterfalls, the area is a geographical paradise for all level of kayakers but especially those looking to pursue the art of free fall. The waterfalls in this area are among some of the tallest (run-able) waterfalls in the world and several world records have been broken here. There is no limit to how big you can go with waterfalls in the PNW but it is also home to one of the most legendary sections of river in our sport, the Little White Salmon.
I first went down the Little White early on in my river running career, at exceedingly low water levels and thought it was one of the hardest, most continuous and best sections of river I had ever run. Three years later I returned and the river was running at just over five feet on the gauge, over two feet higher than my first lap. On some rivers the difference between a few inches makes little, to no difference, on the Little White however you can feel every single incremental notch up, as the river becomes increasingly powerful. I was not planning on immediately dropping into the river at these flows and was hoping to build up slowly throughout the rivers range. But life rarely goes to plan, and when I was given the opportunity to follow one of my kayaking heroes (Ben Marr) down the river, I took it.
That first lap blew by in a series of breathlessness, lactic forearms, occasional glimpses of Benny's kayak in the distance and several moments where I was concerned about involuntarily 'decorating' the inside of my Fuse suit. Whilst I made it down the river that day, I was absolutely on the limits of what I am capable of and it was in no way a stylish lap. We committed to running the Little White every day after this and I slowly grew slightly more comfortable with the river at high water, learn't the lines and pushed my river running further than I ever had before.
Almost all of our laps where around the five foot mark, except for one notable morning lap where the river was at 5.5 feet. To my knowledge this is the highest descent of this river, though I am more than happy to be proved wrong. The river that day was a whole other animal and I felt genuinely relieved when myself and my crew made it to the bottom.
I will forever be grateful for my time on the Little White this spring. There has never been a river push me in the way that this river has at high water, there is simply no other section I have come across that requires you to be as skilled in a kayak, in shape and mentally prepared.
Whilst the Little White was our go to for daily jedi training we also ran the Truss at huge levels almost everyday and went out on several missions to the local waterfalls. Sadly I got hurt (subluxed shoulder) before I could run some of my dream waterfalls but we still managed to run several classics in the area.
I cannot wait to come back to the PNW next spring for more Jedi training on the Little White and to run more of the waterfalls in this area. Hope you all had a great spring!
See you on the water, Bren