That's right folks. It may be "cold as a witch's tit in a brass bra" in Virginia right now, but Spring is not far away. The Great Goshen Race – also known as "Kickin' Ass In Goshen Pass" – has quickly become THE spring paddling season kick-off in Virginia. After a brief hiatus due to completely and totally unacceptably dry conditions last year things are looking up for this year. So mark your calendars for the 4th Annual Goshen Pass Race on March 6th, 2011.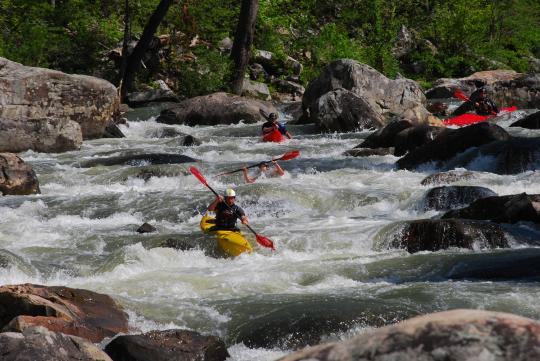 What:Â  An officially-unofficial (or unofficially official?), barely-organized, grassroots, "gathering" of Virginia's varied paddling crews and cliques. A lung-busting mass start race with no safety – you are paddling at your own considerable risk through some of Virginia's best and most scenic whitewater.
Where:Â  The race begins in the pool above Undercut Rock. The finish line is at Indian Pool a few miles downstream. Surf over to the AW's Goshen page for more info on this fine section of Rio.
When:Â  The first weekend in March or the first weekend with flow. The race window opens this year on March 6th, 2011. If there is 600 cfs or more at the USGS Rockbridge Baths gauge on March 6th then we are ON. If not, the race automatically falls back to the next Sunday with flow over 600 cfs. The race starts at High Noon. [Creeking Clause: Rainfall resulting in flows high enough for regional creeking may result in the Goshen Race being moved to another weekend in which the "Race Committee" is not off creeking somewhere else instead. Remember this is a free deal. Information will be posted on Boatertalk and the Coastals.org page if this is the case. Go creekin.]
The usual non-prizes will be "awarded" – including the infamous carnage speedo suit. This year we will even have some ACTUAL prizes due to the generosity of Pyranha Kayaks, Appomattox River Company, Friends of the Maury, and others.
Think Rain!!