From June 9th June 12th 2011 edition of the Freeride Worldchampionships took place in Valchiusella and Ivrea, which is in the beautiful Piemonte area in Italy. As the Kaiserklammtrophy in Austria in April was cancelled due to low water levels, this was the first extreme race on my calendar this season.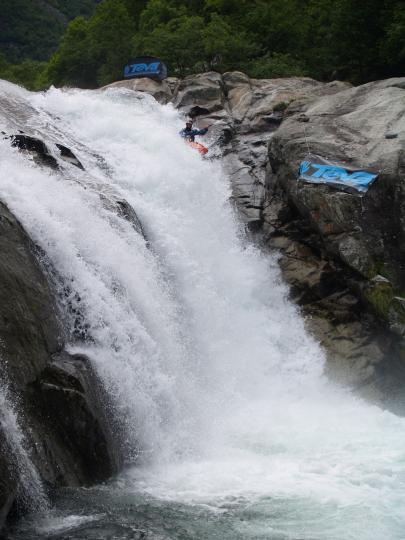 The Teva event consists of four different races concerning the individual ranking: first off was a long downriver race (roughly between 6:30 and 7 min.) on a pretty steep and shallow stretch of the Chiusella river. The key is to keep the route and especially some mean stones in mind. This was followed by a 2-run sprint race down the slalom course in Ivrea, as well as a slalom race and a boatercross there. The overall results are determined by counting together the points you get for each race.
Just like last year, it was again Mike Dawson from New Zealand, who could win the first three events and therefore also the overall competition. Sam Sutton, another kiwi and Sickline champion 2010, took silver, Michele Ramazza from Italy bronze. Congratulations!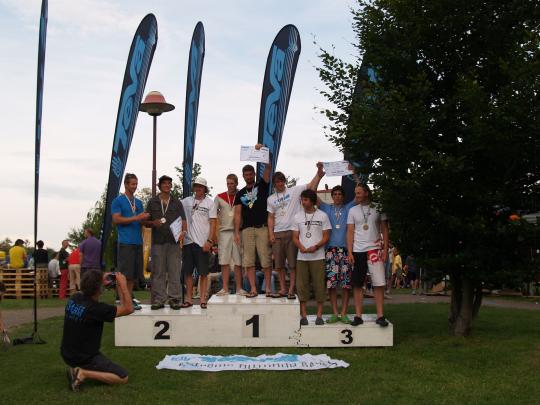 I started pretty poorly into the race, not getting the lines properly down the Chiusella and hitting too many stones. Fortunately though, it got better when I was able to perform a solid sprit race and got second and third in the slalom and boatercross category, respectively. Eventually, it meant the 7th rank for me in the overall result, which I'm happy about. I certainly want to step up a bit next year though!
Concerning the team event, each team made up of three paddlers of one nation had to run the downriver, the sprint and the slalom race. Jakobus Stenglein, Paul Böckelmann and myself formed the German team. After another weak start on the Chiusella, we were more than happy to win both the sprint and the slalom and thus the overall competition. Finally! The second place went to the New Zealand team, followed by the Czechs, who were really strong in the downriver part.
A separate race – the "King of the Falls" – was organized for the top 20 kayakers of the downriver race on another, more difficult stretch of the Chiusella. Ron Fischer from Switzerland had a sweet line down the main drop and took home the crown in front of Maxime Mitaut from France and Sam Sutton. Due to some extra turns in the eddy on the bottom of the big drop, my team mate Jakobus and I finished 5th and 9th, respectively.
For more information, photos and detailed results, please visit the event homepage: www.tevaextremeoutdoorgames.it