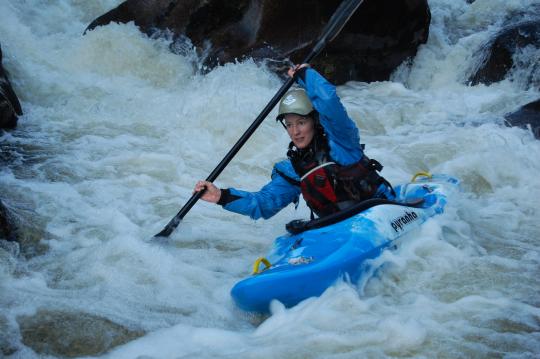 With low water and freezing weather, we didn't have the ideal conditions for paddling on Dartmoor at the weekend – but lure of a great party won the day, and this weekend – paddlers from all over the UK filled the River Dart Country Park, as Pyranha hosted their first ever Dartfest there.
Mitchell paddles and Peak UK also supported the event.
 
There were a number of courses running through the Pyranhafest program and in the evening Mark Rainsley entertained with a slide show and talk about taking your local club a bit further afield than the alps – with Indian and Californian trips being showcased. Max Bilbow wowed the crowd with his adventures in the little known territories of Russia. After all this inspiration for our boating adventures, Dave Hazell hit the decks and we all hit the dance floor. The amount of water in the rivers was probably doubled by the beer that flowed at the party – it was an epic night  – what great party. Thanks Pyranha!!!
 
Pyranha had brought along a huge number of exciting demo boats: the new Molans, the new large 2010 burn and even the very first prototype small 2010 Burn. Despite the low levels I was able to get out on the river – and really put the first prototype of the small 2010 Burn though her paces on the Upper Dart. Here are some pictures of her in action. I really do love the new 2010 design. The boat is much nippier and whilst retaining the forward speed of the previous Burn – I found it much easier to nip around in, more rocker means that it is easier to boof as well. As one of the smaller paddlers around, I also found the slightly narrower design suited me down to a T. I am eagerly awaiting the small production version which will be around in shops very soon. For all you lucky people who are bigger than me, the Large and Medium 2010 Burns are available in the shops now…
 
Thanks for a great Dartfest weekend to Pyranha for hosting and everyone who came along for making it into a great party!