Since our last post, we have spent the past month kayaking in Colorado.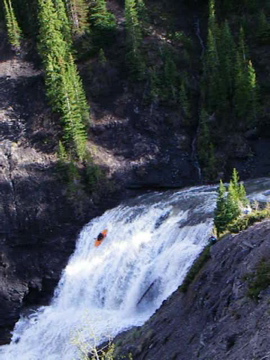 Big East Falls aka."Stupid Falls"

After CKS's PaddleFest in Buena Vista, we went to Crested Butte to catch some of the remaining water from this years weak snow pack. We managed to get Big East Falls and Oh Be Joyful in one night and drove to Durango the next day to catch the Vallecito creek.
Video Clips of Stupid Falls: Conor in the Ammo :: Dave in the M Ammo ::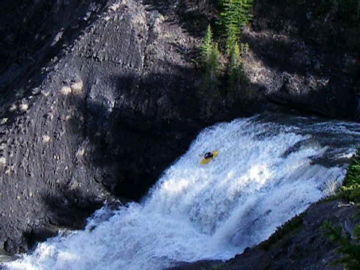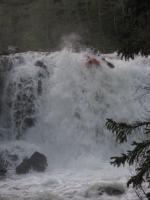 Thanks to Bryan Owen from Astral for this photo.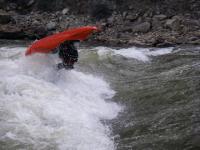 Looping in Durango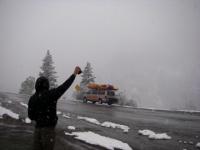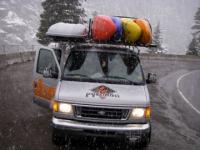 Sorry, no pictures from the Vallecito run. It decided to snow that day so we did a quick run without stopping to take pictures. Truly a photo worthy creek, especially in the snow.
Our next event was in Steamboat Springs the following weekend for the PaddlingLife Pro Invitational. We stopped at the infamous M-Wave on the way.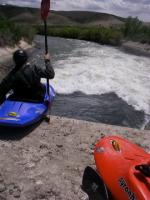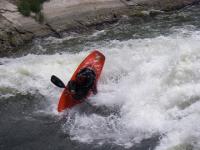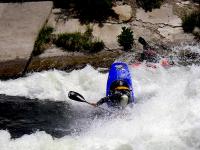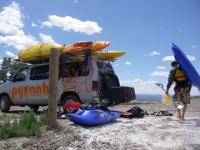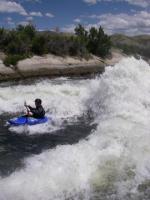 The M-Wave
The event in Steamboat was a GReat Success with a creek race on Middle Fish Creek and a freestyle competition on the Yampa river in downtown Steamboat. I took 6th in the race and 11th in the rodeo.
Check out this short video of the starting line for the race on Middle Fish Creek:fishrace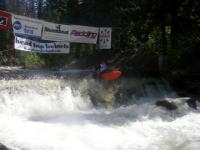 Jammin' to some tunes with an H2OAudio at the start of the Fish Creek Race.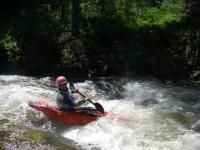 Conor Finney racing Fish Creek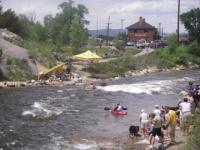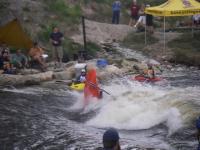 Next after Steamboat we picked up Shannon Carroll at the airport in Denver en route to the annual Teva Mountain Games in Vail Colorado.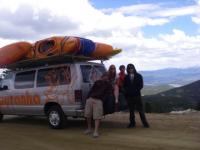 Our first event was a Boater-X on the Dowd Chute section of the Eagle River. Pyranha had a strong presence of solid paddlers all of whom made the cut from 50 to 25 in the preliminary time trials. Next, we were grouped into heats of 4 to race down the course head to head. This years course was more difficult than last years because you were required to pass through 4 gates on your way down, positioned on both sides of the river. The action was intense as 4 boaters raced into each gate one right after another, usually resulting in massive pile-ups. Shannon made finals and ended up in 2nd place for the women, edging out Tanya Faux and Emily Jackson and right behind Nikki Kelly.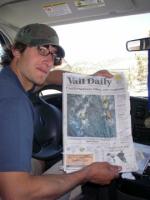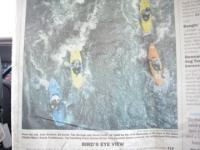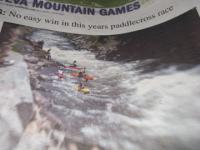 A picture of my heat making the Vail Daily.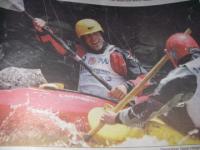 Jeremy Laucks taking out Brad Ludden in the Boater-X
The next day was the Homestake Creek Race. This year we had more water than recent years, about 100 cfs, opposed to last years 50 cfs. The race went really well and clocked some of the fastest course times ever! Although, with the increased water we saw an increase in carnage as well. 2 people were sent to the hospital from taking some bumps on the head, Pyranha's Val Beltrand doing so well in 4th place after her first run missed a line and ran a drop upside down and found a rock with her head. The worst of the carnage went to Wavesport paddler Kelsey Thompson who took a rock right in the teeth!
Katie Hilleke took top honors for Pyranha with an impressive 3rd place! Katie just recently got through a battle with cancer. It was great to see her out there performing like we all know she can!
In the mens division, Jules Campbell and Dave Fusilli had the best times in Pyranha Burns ending up in 5th and 7th out of 50 racers! I took 13th just ahead of Josh Bechtel in 14th, Jeremy Laucks in 21st and my brother Graham in 25th.
The freestyle competition was the next day on friday. Low water on Gore Creek made it tough to do much. Dave Fusilli and I competed and did fairly well, but missed the cut from 35 to 10. I ended up in 12th and Dave took 15th.
After Teva Games we hung out in Salida a few days and did some playboating. Dave took the Medium Ammo out into the hole and threw some insanely huge loops.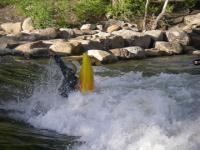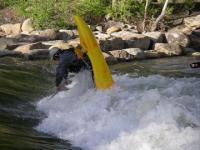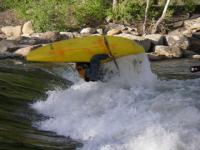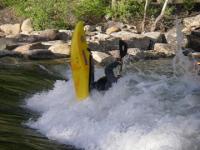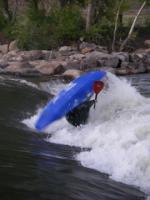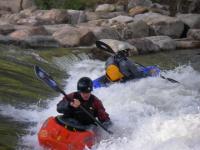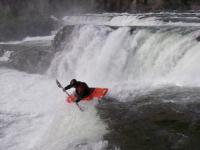 We drove back to Crested Butte after our playboating fix and were fired up to do some creeking.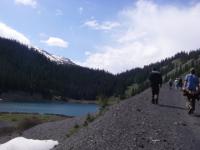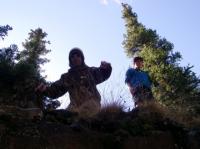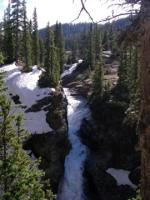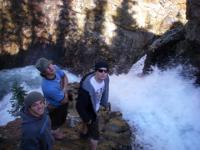 Low water in Crested Butte drew our attention to a few waterfalls around the area, usually too high to run this time of year. We hooked up with Brent Toepper who showed us a sick drop he first descented a few years ago…no one has fired it up since…and still haven't.
The next day we headed into the Crystal Drainage. We drove to Yule Creek and ran into some of the Dagger/Wavesport boys. The creek was high and only a few of us felt up to it. The creek drops off a mountain side and finishes with 4 HUGE back to back drops, the 3rd one sliding and dropping almost 80 vertical feet! Shannon Carroll, Andrew Holcombe, Conor Finney and myself fired it up and made it through with nice lines. Matt Solomon from VOZ Helmets and Brent Toepper shot some video of the run.
That night we celebrated in Redstone at the Crystal Cafe with the owner Billy, a good friend of the Pyranha Family. A perfect way to cap off an epic day!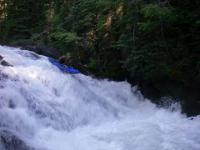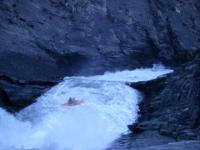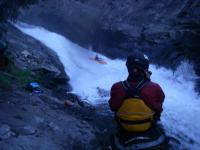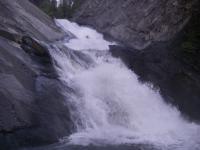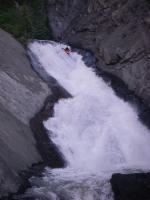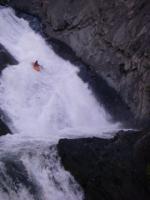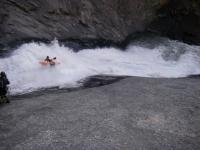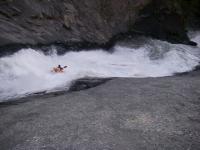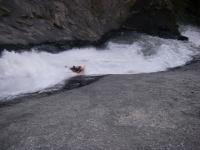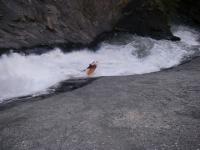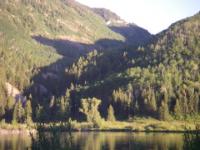 photos by: ND, Lawrence Simpson, and Paul Gamache
This past week the three of us and two friends went back in to Yule Creek and took a few pictures. Check back for a Full Coverage Video of our day on Yule Creek on this site later this week. For now check out this ">Video of Dave doing an AIR LOOP on Yule Creek below the Ball drop.
The following morning after the high water Yule run, it got cold…again and mostly every river and creek in Colorado dropped to minimal flows. We did find one good run on Cottonwood Creek in Lake City, a tight little park n huck, but decided it just wasn't enough, so we headed straight to Lake Creek.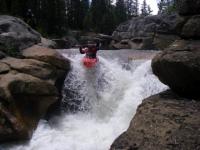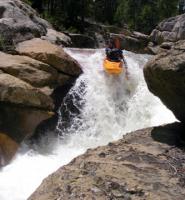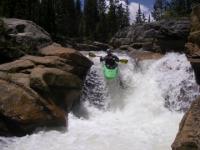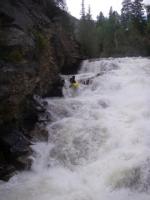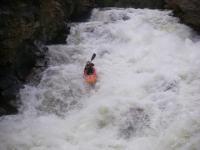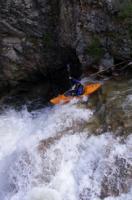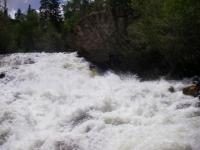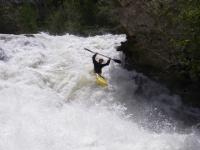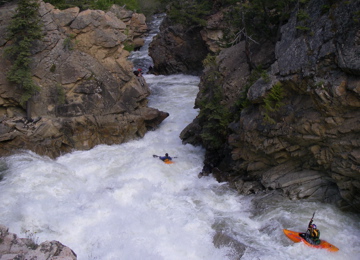 Paralyzer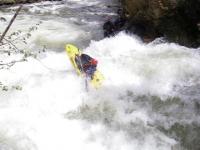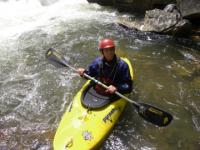 The cold weather dropped the water level in Lake Creek to med-high levels. Our group, now 5 deep, hooked up with Billy Jones, fresh off his West Cherry Creek Mission in California, and kayaked with him as our guide for 3 sick days on Lake Creek. The levels were between 500-700 cfs, which are good flows for the upstream stuff and beefy for the lower big drops. We got some good video footage, compliments of Jaya from Suckytime productions, who followed along the river shooting video in HD. Hope to have some of the footage from those 3 days up on the site soon.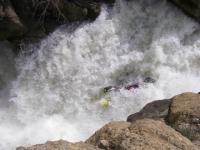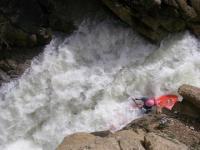 Billy Jones and Conor Finney fired up the gnarly last drop on Lake known as the "Cauldron" two days at flows over 600 cfs! Doing some serious down time!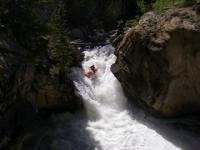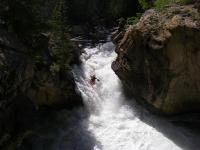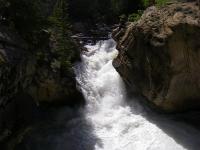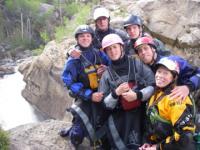 This past weekend was the Blue Paddle FIBARK festival in Salida. Fibark is probably the most fun festival in kayaking. The first day we had an awesome Boater-X race through the Pine Creek rapid upstream of Buena Vista on the Arkansas. The Pine Creek rapid is a perfect course for a boater-X race.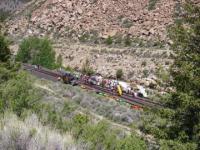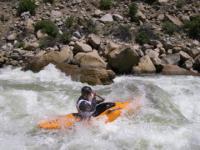 Video of The Hole at Pine Creek Check out this Carnage Video from the race on Youtube.com
The rapid is about a 1/4 mile of big wave trains with a HUGE hole right in the middle of the river that usually takes out a few racers from each heat. If you end up in the hole there is a 50/50 chance you will swim. We had 8 swimmers this year, which added quite a bit of excitment to the highlight reel. Dave Fusilli and Graham Seiler raced really well and beat out 30 some racers and made it to the final heat , 2 Burns in Finals, along with Dr.Andre Spino-Smith and Bryan Kirk. Dave made a sweet pass on Bryan at the finish line and pulled out the win and won $300. Graham raced really well all day and took 4th. I was.. somewhere in there…in the top 8.
The next day was the rodeo. A perfect man-made hole in the middle of downtown Salida draws a huge crowd of spectators every year to see the worlds best freestylers throw cutting edge rodeo tricks for a chance to win $1000 for 1st place. The competition was stacked this year, just making it to finals is a huge feat with the cut from 35 to the top 10. I did pretty well in the S/M 4-Twenty but unfortunately missed finals by a few points and ended up in 13th place.
Graham took 2nd place in the Mens Expert class and walked away with $200!
While Graham was rodeoing, Dave Fusilli was racing his SPEEDER 26 miles in the down-river race. Dave took 1st place in the plastic boat class, and even beat a few glass wildwater race boats, finishing 6th overall!
Another one of the main events of the festival is a competition on Saturday night called the "Hooligan Race". The idea behind the Hooligan Race is a bunch of "hooligans" form teams and build a raft to race through the competition hole and under the bridge to a finish line 100 feet past the bridge. The floats have to be constructed by the team, no rafts or boats allowed, only random stuff that floats is permitted. Jeremy and I took a last minute trip to Wal-mart and bought a queen sized air mattress and a bunch of duct tape and put together a beautiful Team Pyranha float.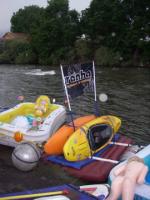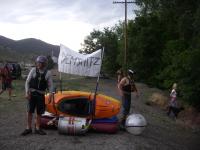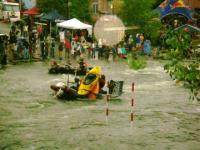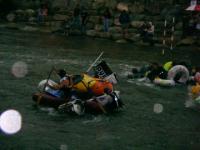 We were dominating for most of both heats until the last heat when our pvc-tube structure snapped in half above the hole and our kegs/seats, donated by New Belgium Brewing, began to float away. Upon hitting the hole our raft exploded and trashed us. Somehow, we managed to climb back on the cam-strapped together pile of garbage and paddled 'er to the finish line.
The partying at Fibark is pretty crazy too. The event's main sponsor, New Belgium Brewing, provided tasty beverages for the party-goers all day. Also, Big Thanks to Chad Hixon, fellow Pyranha boy, for running the show and the VIP parking spot behind his place right next to the hole!
Colorado is a great place to be in the month of June. Kayaking everywhere, great weather, nice people, pretty hard to beat!
After Fibark we are staying out on the road on tour in the van and will be heading north to Montana to stay with the boys from Edge of the World to kayak for a little while before ending up in British Columbia for the remainder of the summer. Keep checking back for more updates. Happy paddling!
On a side-note…Check out LVM TV this week for a teaser of LVM23 which will include a full segment on our trip to the Northeast!