First, a little background… the 'Best Day Ever road-trip'
My Canadian pal, Benny has been shouting about the paddling in Canada ever since I first met him back in January 2019. We were in Ecuador and had just finished an amazing day of boofs and rock slides, with primo water levels and an all-time crew on the Río Jondachi. An absolute best day ever.
As some will know, I had a close call a few years ago and since then I try to adopt the best day ever mindset every day that I'm on the water. Come rain or shine, whether it's class 1 or 5, wild first descent or inner-city whitewater park, alone or with pals, it's another day to enjoy the water and to appreciate where I'm at.
Three weeks after the Ecuador trip, the world was hit by a pandemic and life took on a pretty dramatic plot-drop. From the colourful jungles of Ecuador to local lockdowns and working on busy, stressed-out hospital wards. Travel was off the table for almost two years, whitewater parks took an age to reopen and our rivers here in the UK stubbornly remained drier than a stale rice cracker.
Like many other British paddlers, my paddling took a big hit and I was extremely conscious of it. Throughout those two years, Benny helped to keep my spirits high by regularly reminding me about that awesome future Canadian paddling trip. We didn't know when it would happen, but loose plans turned into lists of must-hit rivers and maps covered in pins, which evolved into a rough itinerary full of epic times to come!
Eventually, I bought my ticket and left the UK 2 weeks later. And here I am with my Scorch Small, on the Best Day Ever road trip!
Awesome Alberta
When paddlers talk about Canada, British Columbia usually takes centre stage and I was guilty of knowing virtually nothing about Alberta boating until we started planning this trip (at which point Benny began bombarding my DMs with Alberta footage). I've got to say it- Alberta was definitely worth the hype…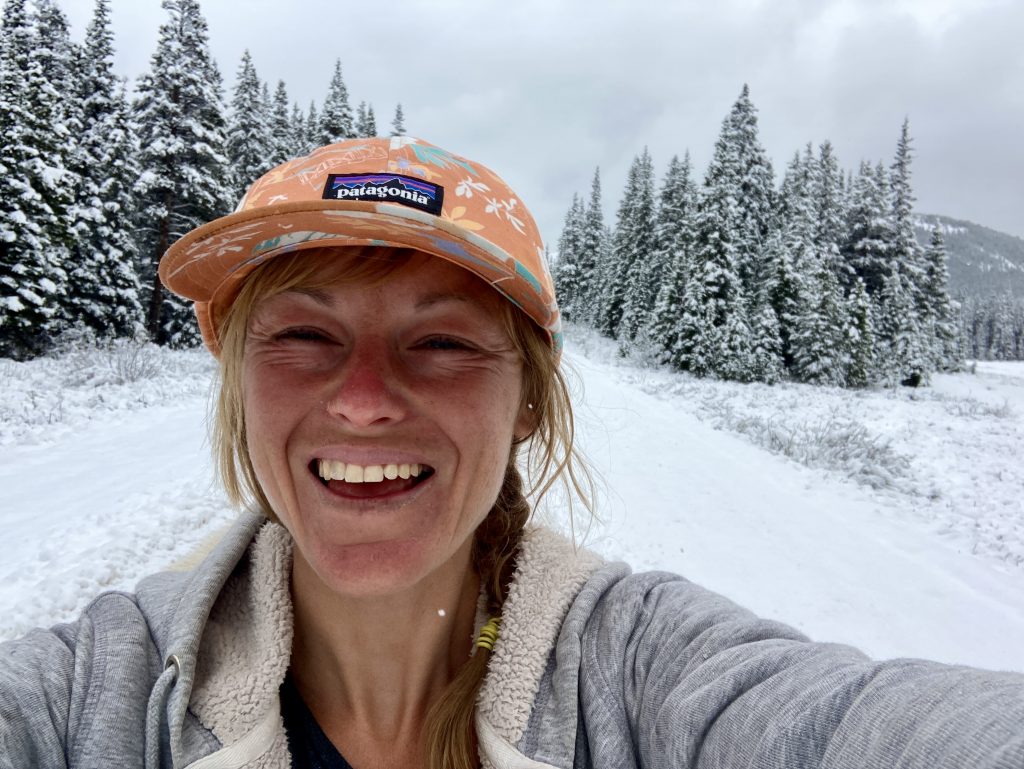 I'd been warned that the weather can be fairly mixed, but I hadn't quite expected to wake up to heavy snow on my first morning in Canada. Especially as I had been merrily swimming in lakes only a couple of hours south of the border the day before. (I now understood the term 'Juneuary' that I kept hearing local paddlers saying).
So, the bikini was replaced with a down jacket, chains were put on the van tyres (technically I sat in the warm van, whilst Benny did the chains) and we began our Canadian best day ever (after hot coffee and the biggest cinnamon bun I have ever seen in my life). Luckily, that was our first and last day of snow whilst in Alberta. In fact, from that day onwards we had nothing but hot, sunny weather, I even wore my shorty dry top for some laps! Here are a few of my Alberta highlights-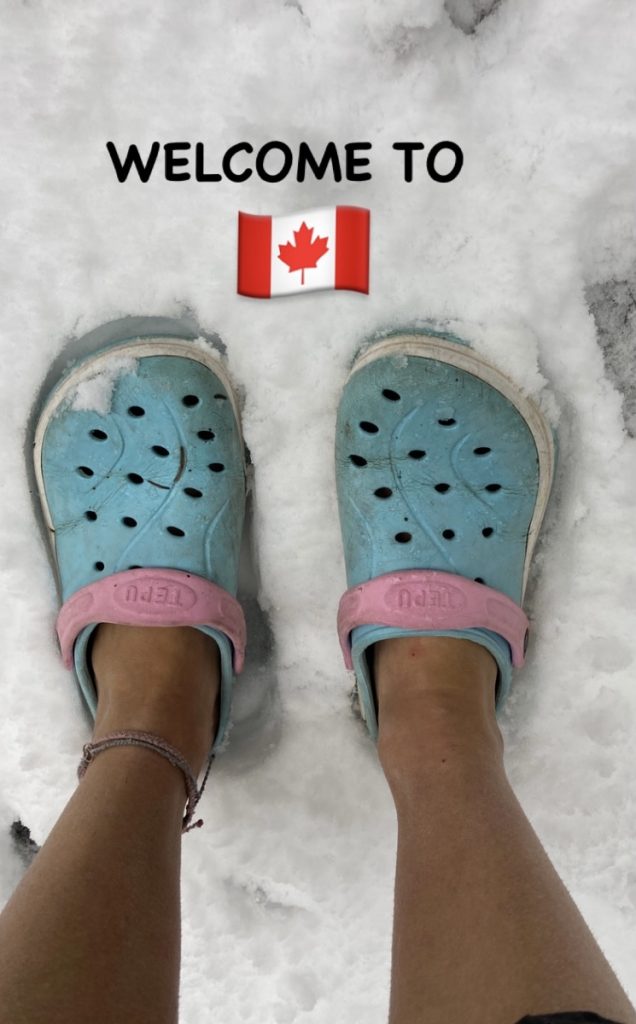 Elbow River
Boof, Skip, Slide, Repeat!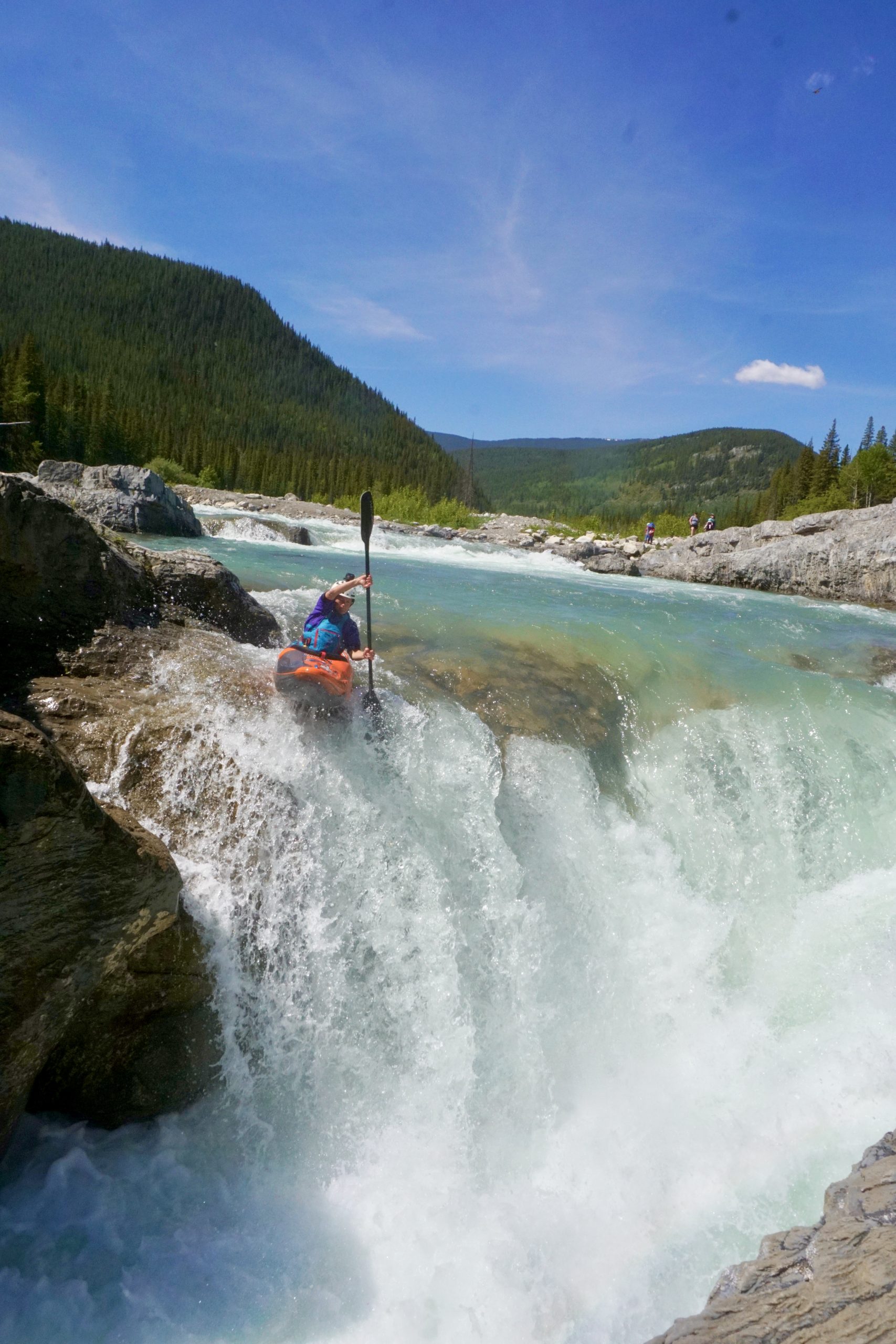 Elbow Upper 'Falls Section'. Short and sweet run, starting out with a clean boof, followed by a handful of rapids -including a great ramping slide.
Whether you're spending the day doing laps on laps, boshing out a quick after-work run, or even just park 'n' hucking Elbow Falls (guaranteed cheers from tourists if it's a weekend), this backyard run is awesome fun and a great training ground.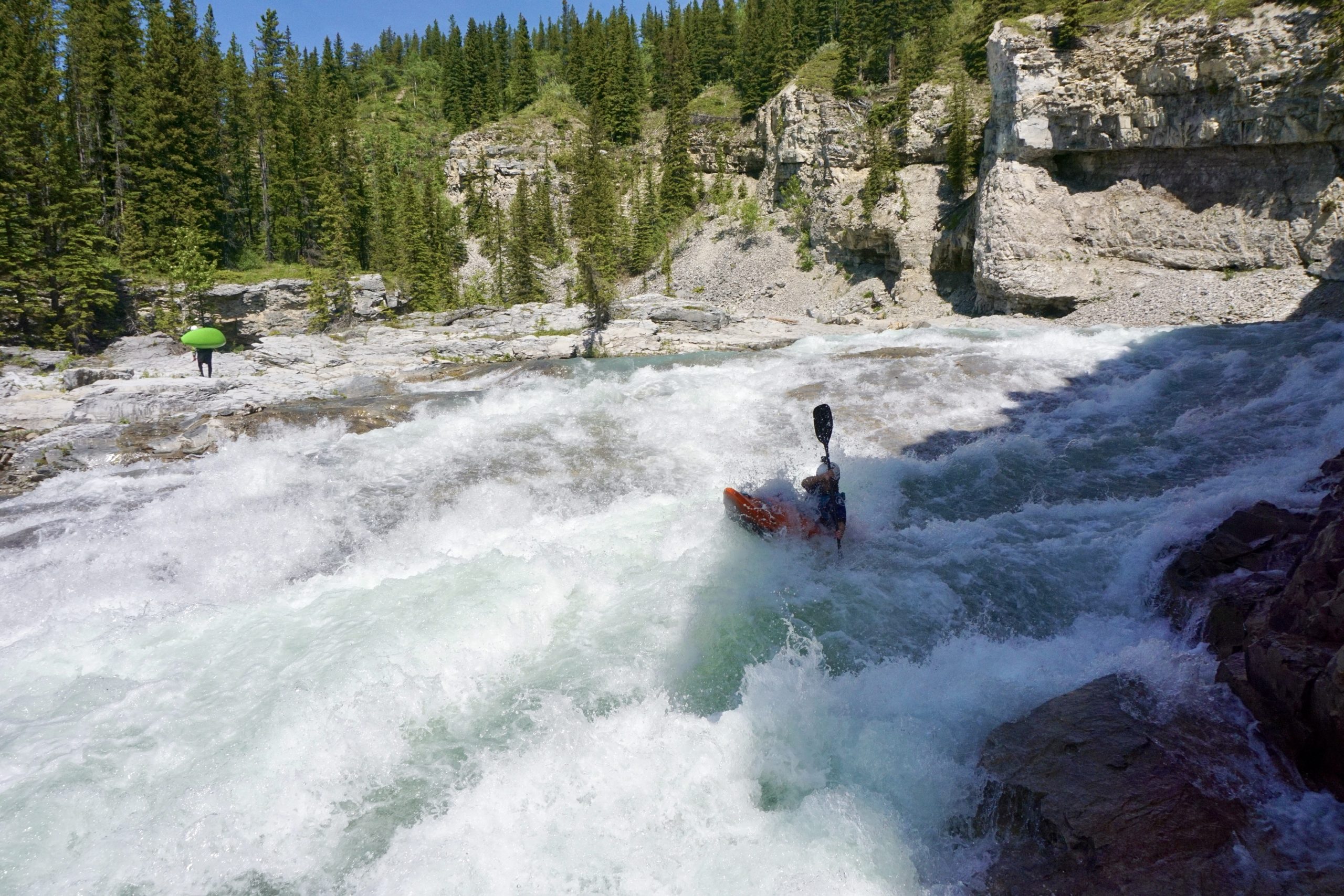 Cataract Creek
A proper adventure and great bang for your buck!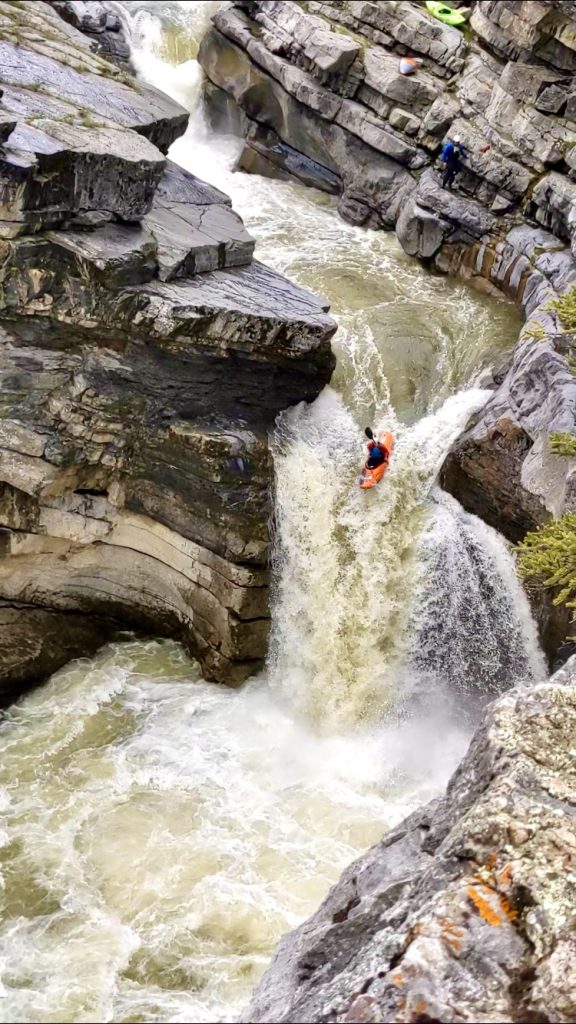 Cataract Creek was definitely my Alberta highlight. A big horizon line marks the abrupt end to the mellow and super-scenic paddle-in. Beyond here is Hercules drop, leading immediately into the 25ft 'Titan' waterfall. From thereon it's non-stop quality whitewater interspersed with several bigger rapids right up until the takeout. A fairly rowdy, tiered slide name 'Leviathan' was my favourite rapid and also where we spotted a big cougar checking out our lines!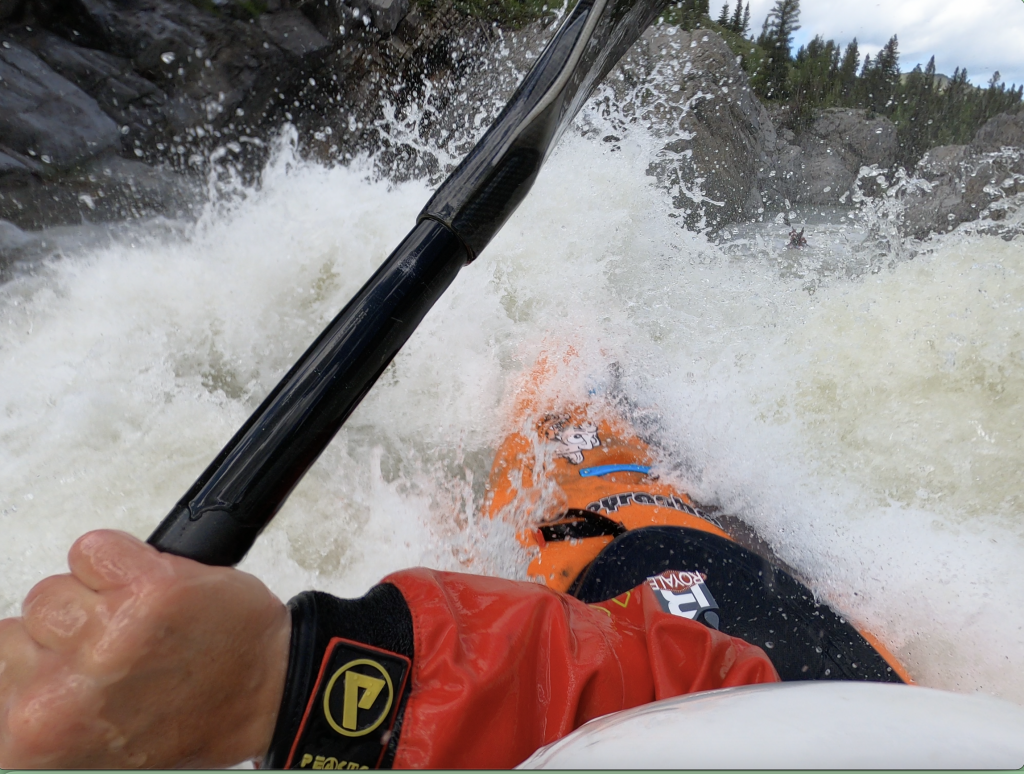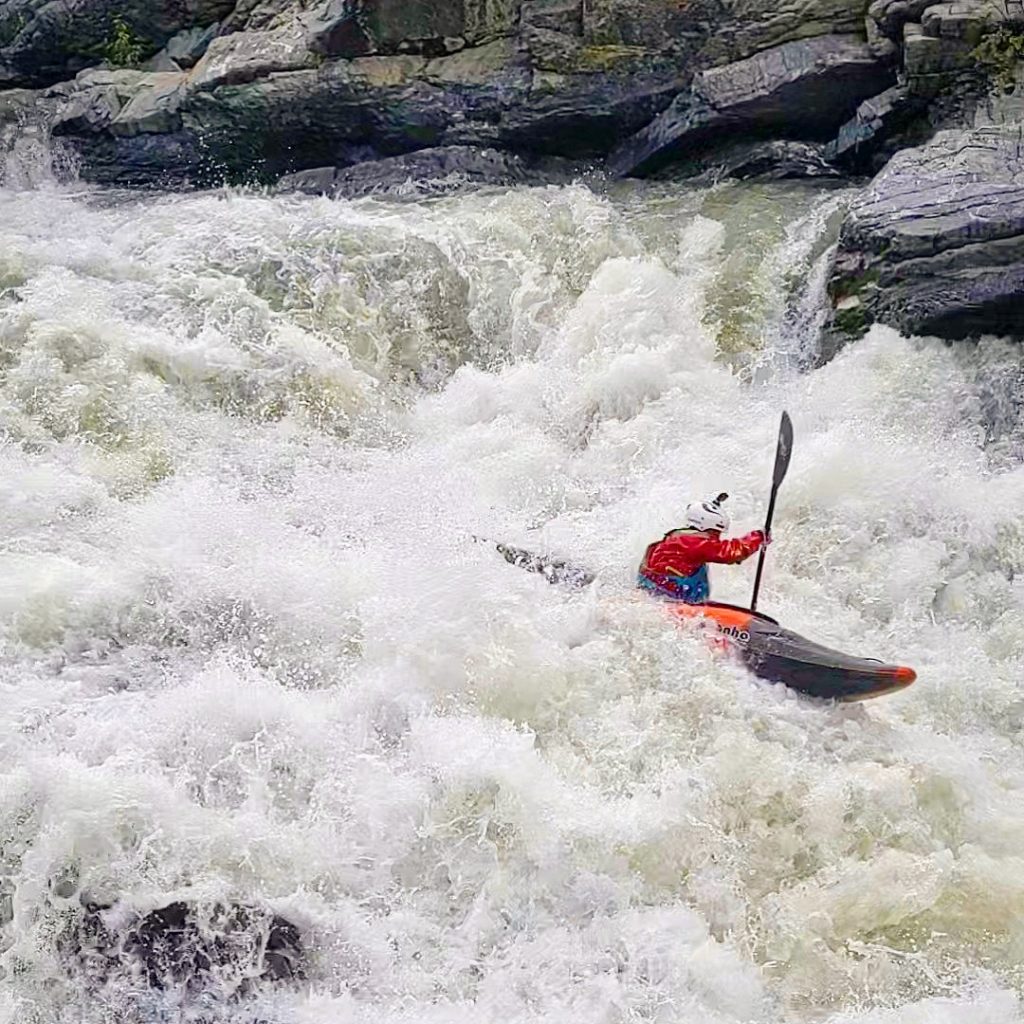 Sheep River
Blue water and crazy sheep!
Sheep River, Blue Rock to Gorge Creek. Beautiful blue water half-day run, with a couple of standout bigger rapids and lots of fun stuff in between. The section starts out with a couple of nice boof ledges and some read and run, before reaching my personal highlight on this section- 'Tiger Jaws', a big boof that flows immediately into a steep, pushy ramp. Massive rapid 'Triple Falls' follows, which semi-collapsed in a huge flood and is now a pretty monstrous rapid! The river runs through a super scenic canyon, with lots of Rocky Mountain Bighorn sheep leaping up and down crazy-steep cliffs!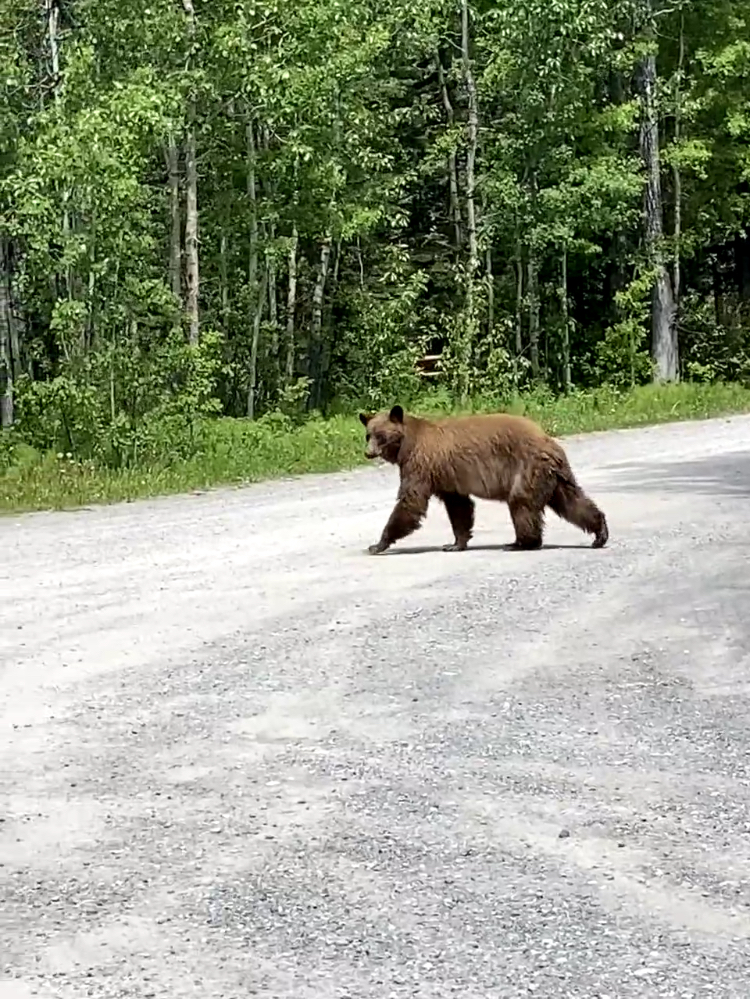 As well as epic whitewater, the paddling community in Alberta are also first-class. Whether it was a quick after-work lap or a full-on canyon day, there were always plenty of paddlers keen to rally. Add to that some epic rocky mountain scenery and incredible wildlife, including bears, elk and cougars, and you've found yourself in a super special paddling playground!
Thanks for reading and stay tuned for part 2 of Best Day Ever. Stoked to see what's in store for us next as we head West -the bar has already been set pretty high! *Disclaimer: you will likely develop an unhealthy addiction to one or more of the following whilst in Canada- cold brew coffee, soda cream slushies, freshly baked apple fritters. You've been warned.
Massive thank you to Benny Clark, Allen Yip, Louise Stanway, Kyle Sag and Gabrielle Nemigazinev, for all the good times on and off the water! Photos thanks to Benny Clark and Louise Stanway.
Follow Sal's adventures – www.instagram.com/sal.montgomery
Sal's creeker of choice for her Canadian road-trip is the Scorch Small, because (in her words) 'it's fast, fun and boofs like a dream!'