Since last October, I adventurously explored rivers and waterfalls of Chile for two months with a tool called Whitewater Kayak. I could newly discover the scenic beauty of mountains and rivers of South America by overcoming fears of occasionally veiled water streamline. Furthermore, the natives' culture and attitude of living along the river was a wonderful experience.
Even though just watching in the airplane, the sky view of Andes beat my heart
I teamed up with Chilean kayaker, Alejandro Campos, and we have met great Chilean kayakers.
Anywhere in Chile was easily possible to purchase fresh food. Especially, fine BBQ could be done any time since the reasonable price of high quality meat. Typical local food: Completo, compose of avocado and sausage. Cazuela, soup with beef.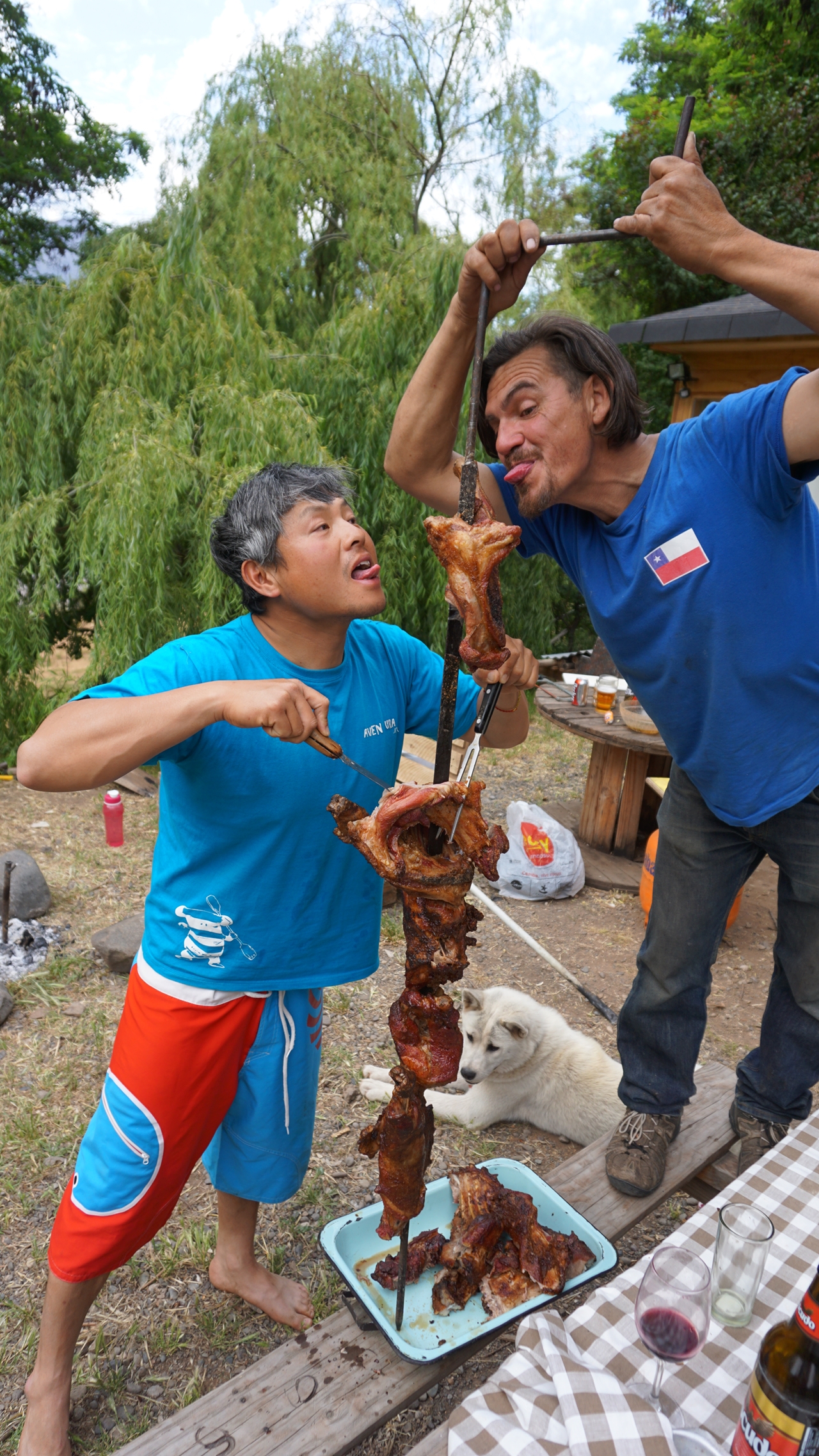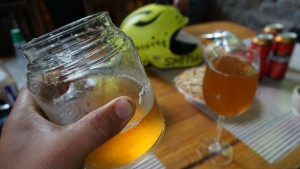 Numerous beautiful campsites are in the vicinity of urban areas in Chile. Excluding private properties, camping is freely available at any places. Listed campsites possess amenities such as barbecue grills.
I involved in a 3-day teaching class as a session staff for the students of Adventure Tourism in Santiago Duoc UC. The students were trained in various outdoor activities in mountain, river and ocean by professionals for 2 and half years. They get CPR courses in every session. I really envied their infrastructure of systematically educating outdoor sports.
Chile still has many unknown rivers and waterfalls due to the harsh environment. This waterfall is the one we approached when heading to the south of Santiago. At first we planned to kayak the waterfall, but the height of it and its previous waterway were much more dangerous than we expected. It was left in abeyance until the next adventure.
Chillan's Waterfall, Photo by Kang Ho
Soul friend kayakers in Chile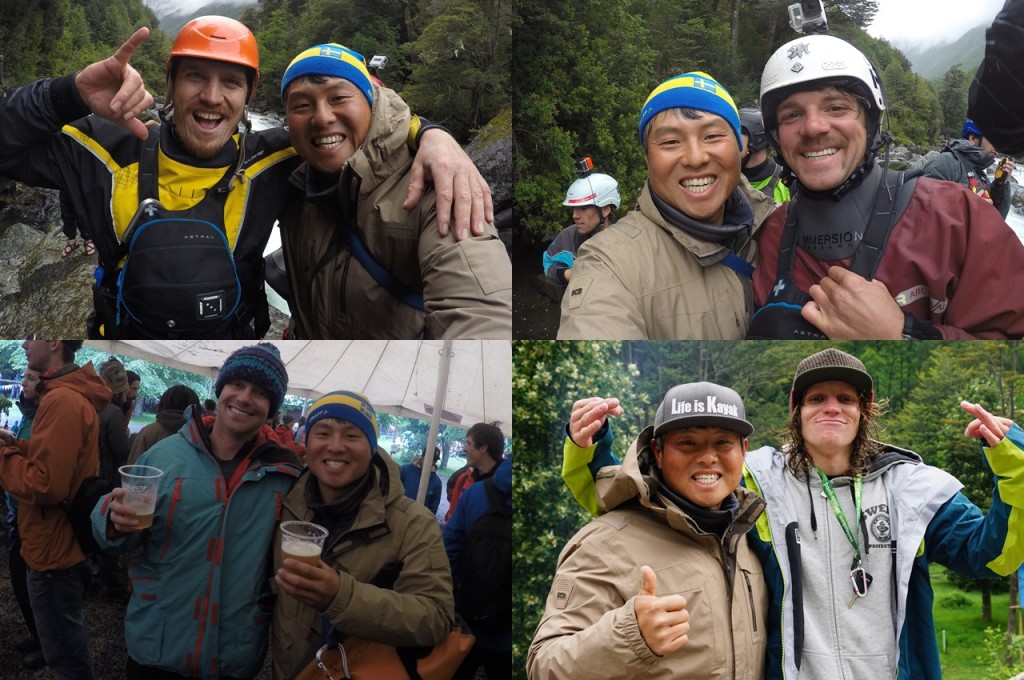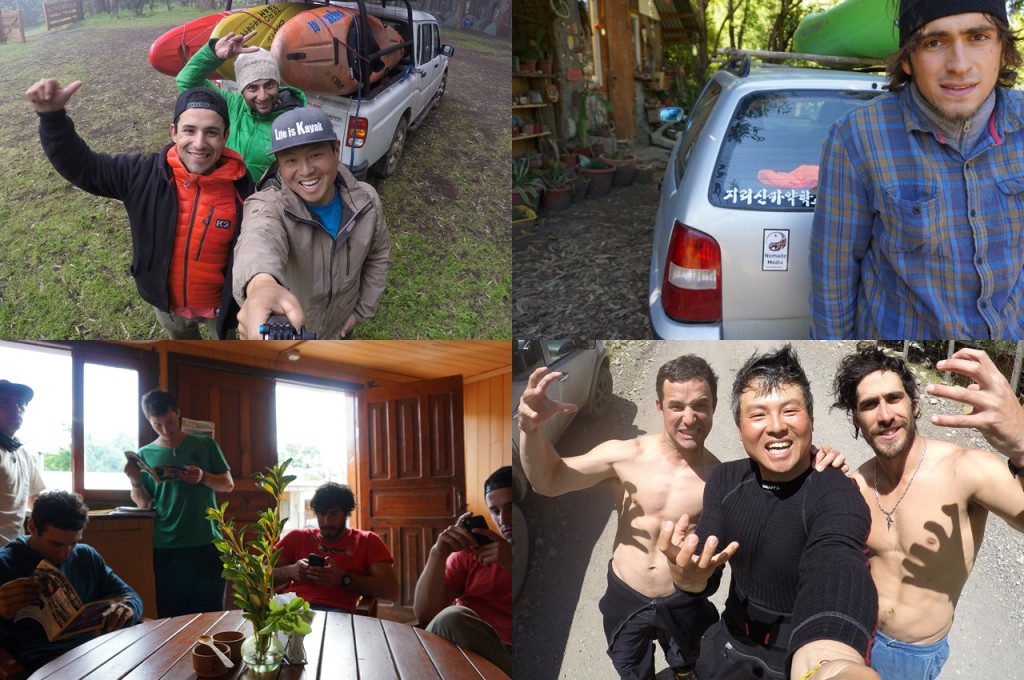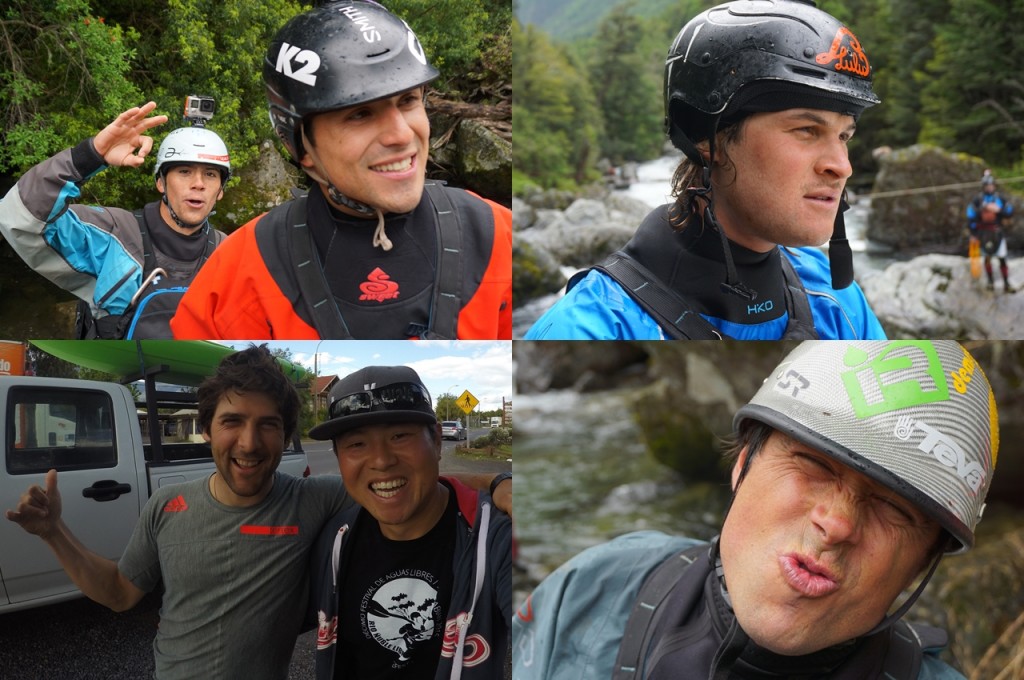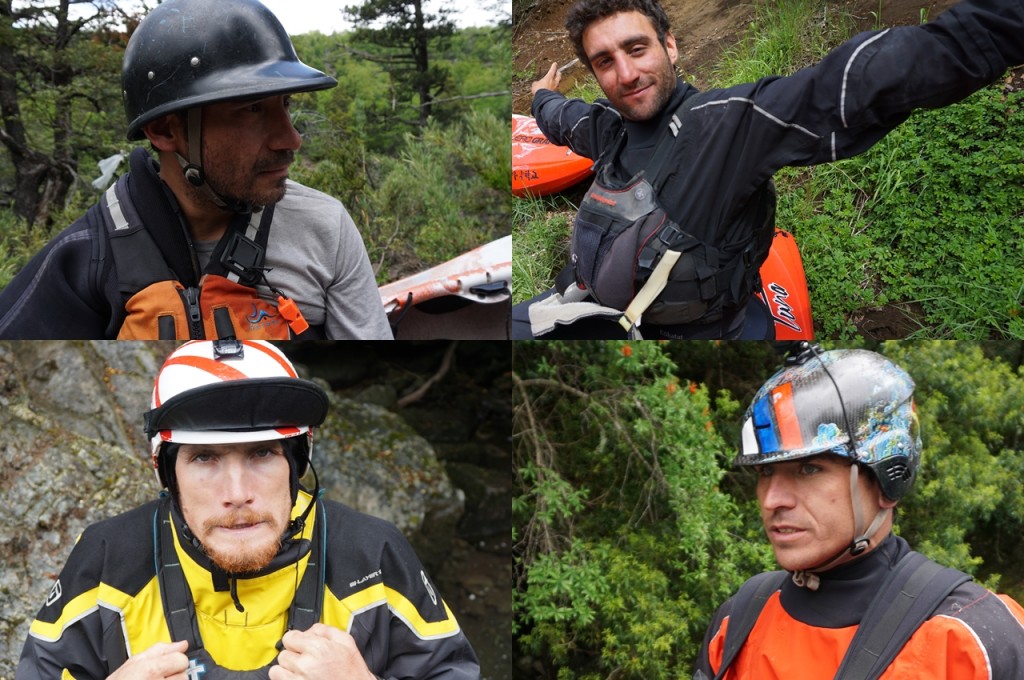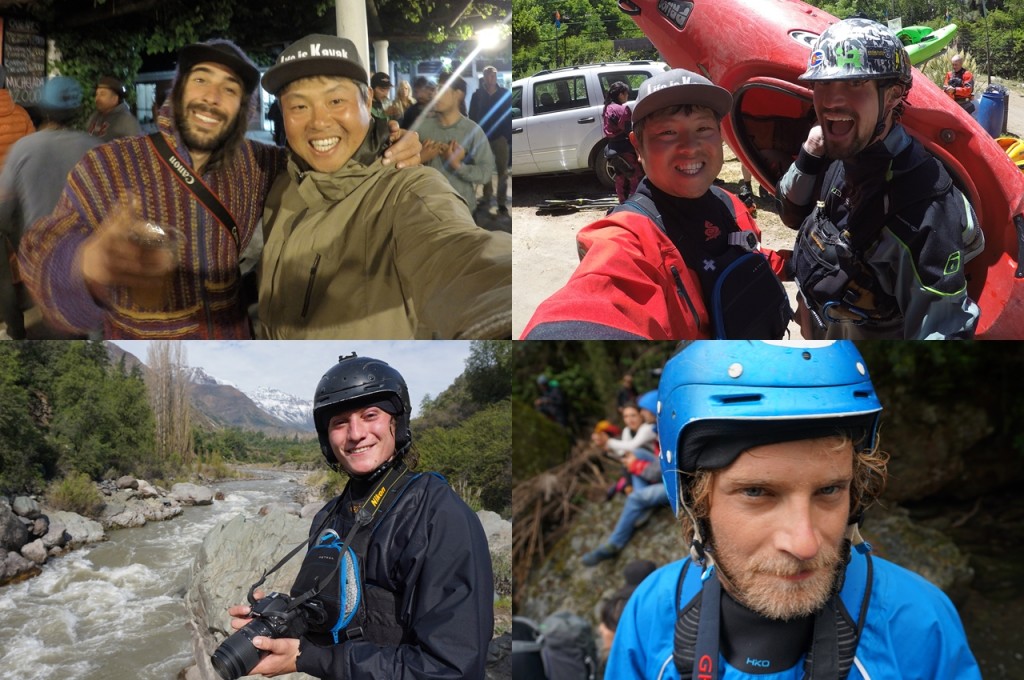 Rio Yeso, which is named after a famous old limestone mine, reflects the color resembling limestone. Beginning from 1480m above sea level, the river starts to flow by the melt water when summer arrives. The best season for kayaking is from Oct. to Nov. It is a rapid flow rate creek which is categorized as class 4+/5 river. It has steep slope with many rocks and flows about 3 km. Upper Maipo is connected further down the takeout point.
 Rio Yeso, Photo by Kang Ho, Kayaker Tino Specht
Rio Maipo is a fascinating gorge located an hour away from Santiago. It is consisted of 8 km of upper region and 12 km of low region. Commercial rafting is available from Sep. to winter season in low Maipo. Meltwater keep increases as the season goes, introducing continual rapid stream. The Maipo kayakers are very famous for their toughness even in Chile. In Sep., the class of upper Maipo is 3/4, but it changes up to 5+ in upper area at Frechman's corner in Dec. Rey del Maipo, extreme kayaking competition, is annually held in Frenchman's corner Every Sep
 Frenchman's corner in Rio Maipo, Photo by Alejandro Campos, Kayaker Kang Ho
Rio Maipo, Thank you Adventra Extrema
Rio Claro is made of basalt which is polished by melted glacier for millions of years. It is formed with class 5 region "Throat of the Devil", probably the most beautiful drop in the earth, regions of 22 falls and the region of "the seven teacups national park." Although its characteristics are that of clear waterfall, it's beyond our imagination in scale and overwhelming. Kayaking is available in early summer season when it melts.
 The seven teacups national park in Rio Claro, Photo by Sergio Vidal Bogdanovic, Kayaker Kang Ho
Rio Teno has similar geographical features with Rio Maipo. We can experience the brown colored wild river from September, when the snow begins to melt. Los Quenes River Fest which is a relatively small scale third round of the national kayak circuit is held every early November. Kayaking and rafting competitions are held. Thanks to the road near the river, scouting is handy. The 20 km stretch is mostly class 3/4 but also has upper region with narrow gorge of class 4/5. It meets the clean and beautiful Rio Claro, which has class 3/4.
Los Quenes River Fest in Rio Teno, Photo by Kang Ho, Team Universidad de La Frontera
Los Quenes River Fest in Rio Teno, Photo by Kang Ho
As moving south from Santiago, the natural environment begins to change little by little. Rio Nuble has turquoise blue color of water unlike other brown colored rivers. The Nuble Kayak Fest is held in this region. Until early November, its water level is getting higher due to the meltwater. An upper Nuble run would be 14 km section of class 3 and 4 and has famous fast stream, the crux rapid. It is surrounded by snow covered mountains. Technical kayaking is required due to huge rocks. Also, there is a big-boat play boating point in long flat-water part. The lower section is class 3 with continual waves. Unfortunately, Rio Maipo and Rio Nuble are under construction of dams. There are also a lot of frictions between the local residents and construction developers because of the planned or under construction of dam in many rivers
The crux rapid in Rio Nuble, Photo by Kang Ho
Upper Nuble, Photo by Kang Ho, Kayaker Pedro Astorga Leiva
Rio Trancura, meaning lots of stones, is a favorite kayaking spot for locals. From November, the river maintains abundant water level with meltwater and frequent rain. It includes commercial rafting region, where the working place of local kayakers. A typical run on the Trancura could be divided into an upper section of class 3/4 and a lower section of class 3. At the upper section, volcanic basalt produces drop-pool rapids. There are 5 main rapids including Mariman rapid. I got a lucky bigwater when I was there.
The world class kayakers mainly participates in Puesco Fest. Partly kayak race, partly music festival and partly environmental rally, Puesco Fest brought together more than 1,000 people to celebrate free-flowing rivers. It was incredible experience to watch the paddling of skillful kayakers from all over the world. An all-night rave which lasted 3 days was fantastic.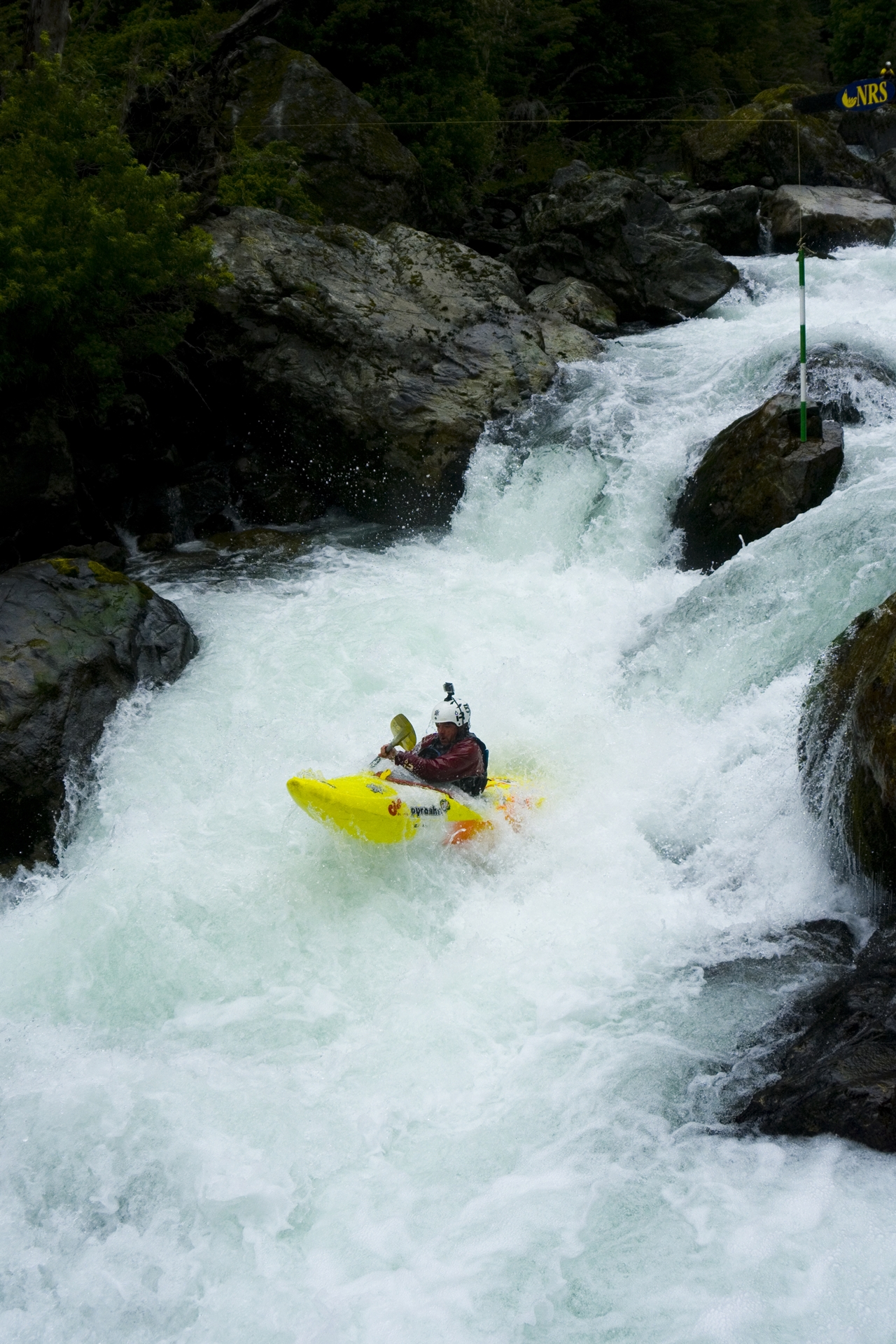 Tres Troncos in Rio Puesco, Photo by Kang Ho, Kayaker Jared Seiler
Rio Palguin is an endless gorge with various large and small waterfalls. Rio Palguin is high level class 4/5 water challenging the kayakers same as Rio Nevados. We can train our boof skill with various drop and waterfalls in the dangerous but beautiful river.
Rio Palguin, Photo by Jaime Lancaster Rial, Kayaker Kang Ho
Rio Palguin, Photo by Lucas Varas, Kayaker Kang Ho
Rio Palguin, Photo by  Jaime Lancaster Rial, Kayaker Alejandro Campos
Boof to swim in Rio Palguin, Photo by Kang Ho, Kayaker Jaime Lancaster Rial
Pucon, located in southern Chile, is the best vacation spot. Especially it is a shrine for kayaker due to meltwater and huge rain on a lot of gorges. Rio Nevados is a dangerous stream of class 5, but many kayakers are challenging. 50 feet of Demshitz waterfall was enough for just looking at it.
Rio Nevados, Photo by Jaime Lancaster Rial, Kayaker Lorenzo Andrade Astorga
Ecstasy in Rio Nevados, Photo by Jaime Lancaster Rial, Kayaker Kang Ho
Dulce Amor in Rio Nevados, Photo by Jaime Lancaster Rial, Kayaker Kang Ho
Rio Coilaco, a beautiful 13m waterfall which could be easily accessed and boofed all day long, would definitely make your new profile picture.
Rio Coilaco, photo by Alejandro Campos, Kayaker Kang Ho
Free the Rivers
Korea is a small but beautiful country with four distinct seasons which is a peninsula surrounded by seas on three sides and is consisted of mountains 70% of the land overall. However, a number of dam construction destroyed river and surrounding environment. This resulted in limited kayaking, which is only available on certain rivers and even more, days right after rain. Economic development oriented policy built a lot of dams and it is still going on, endangering rivers. I am opposed to the construction of dams which destroys natural environment that related with native people's life. I want to share my experience in Chile of huge mountains and rivers. We must not stop the rivers. It is a vein of our peninsula.
I thank to my bro. Alejandro Campos and his friends. He helps me a lot right beside me. I thank to the family of Adventra Exrema and Cristian. God will bless them.
Spceial Thank you! I especially thanks to my wild horse 9R going through the whole adventure. 9R inspire me and give faith on every drop, fall, eddy and hole.
9R Love! Pyranha Love!