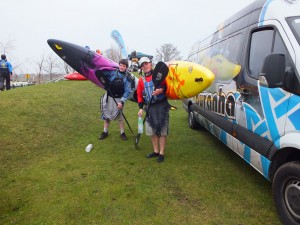 Myself and Jason Raper recently succeeded in completing a full decent of the River Ure, 160 miles. I can only assume the list of people to achieve this is fairly short and it was not high on our list of things to do. Unfortunately the tragic loss of a friend whilst kayaking on New Years day pushed it to the top of the list.
The Ure flows right across England biggest county, Yorkshire. I would imagine the scenery is what people  who don't live in the UK, expect of the English countryside, with rolling fells and drystone walls. This is true for the majority of the river Ure as after 74 miles it changes it name to the Ouse. From here, the countryside gives way to 2000 years of beautiful architecture found in the city of York. Not far beyond this the river becomes tidal and the architecture soon gives way to what is left of a heavy industrial history and some which has stood the test of time. As the river increases in size, so do the vessels using the river and after a only 52 miles it changes its name yet again to the mighty Humber. The Humber is over a mile wide at its start point where the Trent and Ouse meet. The land is flat and the water is heavily silted. It is also one of the UK major deep water estuaries and one of the busiest and fastest-growing trading areas in Europe. Nearly a quarter of the UK's seaborne trade passes through the Humber and includes 25 per cent of England's natural gas and 25 per cent of its refined petroleum products.
With the ports of Hull and Immingham and the fifth largest suspension bridge in the world the scenery is very different from where the trip began. The trip finishes with something just as special as the English countryside it began in, Spurn Point. This National Nature Reserve, Special Protection Area and Heritage Site is something unique in a fairly ordinary part of the UK.
Anyway, I hope I have described it adequately as we didn't take any pictures. We were too busy smashing down it in 3 days raising money for the Air Ambulance that tried to save your friend life. If you are interested in any more information on our trip, please visit http://www.justgiving.com/paddletheURE.