Gopro mountain games
This weekend saw another year of the Vail mountain games taking place in Colorado, featuring some of the best and most progressive outdoor athletes in the world taking part to showcase their skills and try and take home some prize money.
First up was the Home stake creek race, A really continuous section of water with some tough moves to make and a couple of flat water sprints to fatigue you before taking on some of the bigger rapids on the race.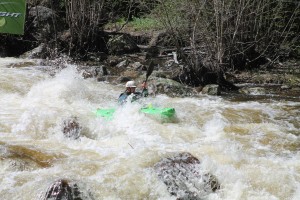 Demshitz flew down the creek race with some clean lines and fast sprints, we saw Dave Fussili take the second best time of the day, only bested by Olympic slalom paddler Mike Dawson.
Full list of results here :
http://www.mountaingames.com/media/163563/2013%20steepcreekfinalresults.pdf
Check out the video to the creek race here :
http://www.youtube.com/watch?v=T8-WnUYa4yM
Next up was the freestlye event, taking place on a shallow and relatively flushy hole. Unfortunately I had a bad days competing and failed to make the cut, Matt Anger and Mike Patterson threw down some awesome rides but it was unfortunately not quite enough to advance to the next round. Luckily two Demshitz made it through in the form of Craig Kleckner and Dave Fusilli, Both stormed the semi finals event and moved up in the rankings but unfortunately just missed the top 5 and failed to advance to the next round.
Rowan stuart threw down in the women's category, despite still being a junior and took home 3rd place for team Pyranha.
Go Pro Mountain games is a truly sick event and I was stoked to take part and see the boys throw down, but I truly cannot wait to get back here next year and redeem myself.
See you on the water,
Bren
You can also read the following newspaper articles on how the event went down.
http://www.summitdaily.com/news/6825891-113/creek-steep-finals-run