This past weekend was Potomac Fest- the mid-summer classic, hot weather, humidity, water so warm it's not refreshing at all, slimy, slippery rocks, and long days of all sorts or competitions.  Despite all that, Po fest remains popular, with people turning out for the Great Falls Race, squirtboat, freestyle, old school wave surfing, boatercross….. This year was a tad cooler and less than years past, and the getting splashed with water was actually a bit refreshing.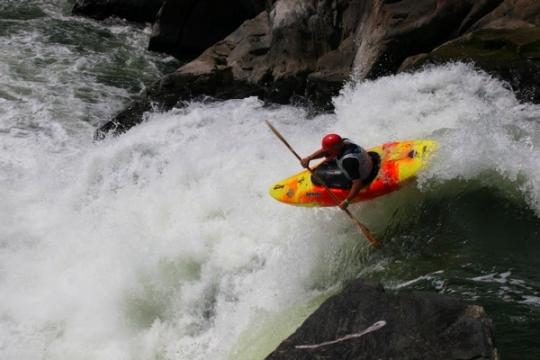 Boofing off the classic "Spout" drop during the Great Falls Race.
The Great Falls race is short than most of the races I've done this season- only about a minute long and 3 rapids- U-hole, S-turn, and the Spout.  It's a full-on sprint, and not too many moves to remember.
Sliding past U-hole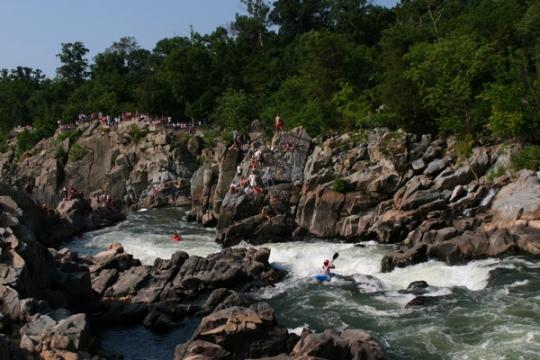 Sean Chapelle entering S-turn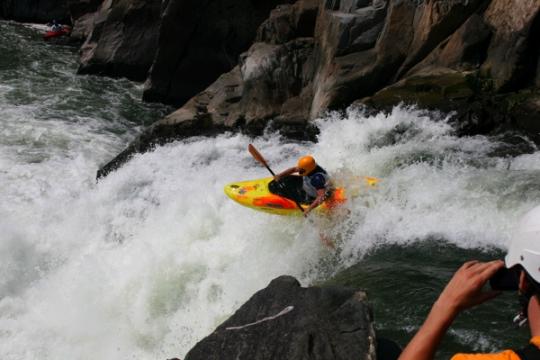 Eric Orenstein launching off the right line of the Spout in the Everest.  The Everest proved to be the boat of choice for the short boat class, taking the top 3 spots.  I managed to get in good strokes and had pretty good lines, and ended up 5th in the short boat class in my medium Burn.
Sunday was Freestyle day in the morning.  The water was well on the "low side of good" for Maryland Chute, but we made the most of it.  It was tricky to even cartwheel, but could be done, and loop moves were nearly impossible.  Despite that, the turnout was pretty good.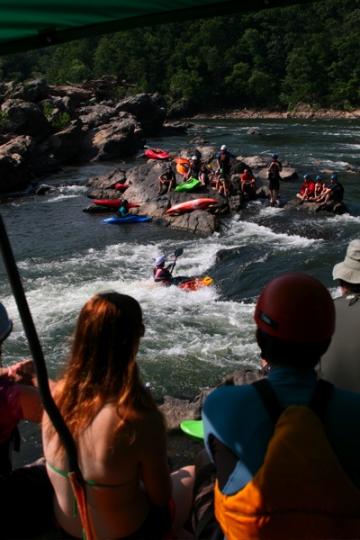 Freestyle in MD Chute.
I managed to pull off some entry moves and splitwheels (and a really sweet air McNasty to stern piton combo) and finished in 3rd place in kayak.  In C-1 I got some roundhoused, shuvits, and splits going, good enough for second place finish.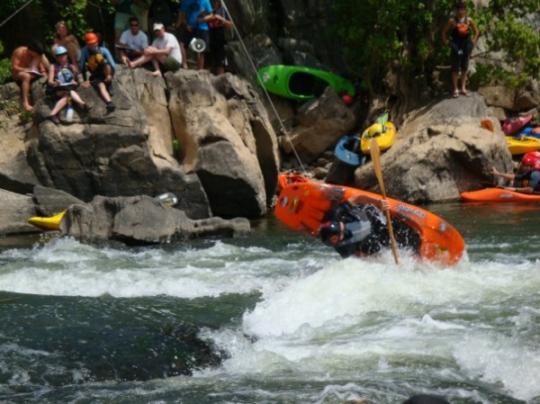 Trying for the airwheel.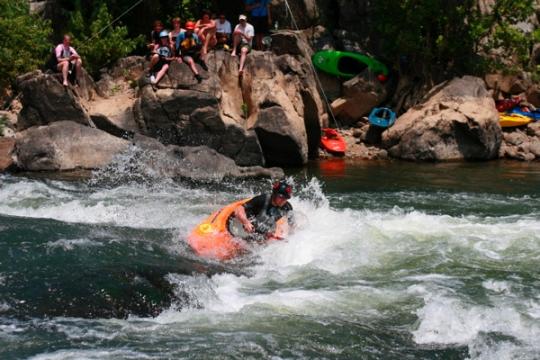 C-1ing
This year's boatercross was a rolling format- 3 rounds with 3 different courses, increasing in difficulty and finishing with tricky lines through Little Falls.  The boat length cut off was 7.0 feet, the idea being to race in playboats.  I brought along my trusty small Ammo (6'9″).  The boat played to my advantage, especially on the Little Falls course, where the extra volume helped a lot over the playboats.  After finishing second in the first two rounds, and getting off the start slowly in the finals, I managed to pass all the other paddlers and finish 1st.  Between the wins in boatercross and eddyline squirt, 2nd place finishes in Downriver squirt and C-1 freestyle, 3rd place finish in K-1 Freestyle, and the 5th place finish in the falls race, it was a pretty good weekend for me, and I headed home pretty worn out.