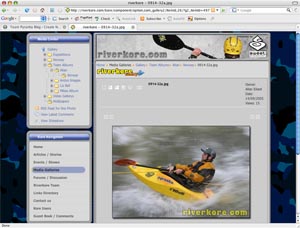 I have been taking some downtime lately, due to a leg injury and operation that went bad, but in the re-hab time I have completely rebuilt my www.riverkore.com site.
My aim was to make to update able by all of our riverkore team and present it as a showcase of our adventures.
You will find image and video gallerys, which I am trying to fill up with all kind of images that have been sitting on my computer for years doing nothing! You will also find articles from past expeditions, with accompanying galleries and some might even have a video clip.
If you register on the site you get a few features, you can abuse us with comments! (be nice or I delete you:-) You can also add to discussions on any article that has been posted in the forums to discuss.
You can comment on images, send e-cards and there are a few wallpapers around.
So go have a look, have fun and have a great xmas, you guys in the USoA, Happy Hollidays, some one told me the other day American dont say 'Merry Christmas'
Have fun