Record snow and a late snowmelt has made the anticipation for Colorado tour more exciting then ever. I just finished my first week in colorado and it could not have gone much better. One of my favorite runs we got on this week was Cross Mountain Canyon on the Yampa River. This run is about an hour and a half outside of Steamboat Springs, and because it is at record high flows, it is definitely one of the bigger rivers I have ever run. It is five miles of continuos class 5 big water. I got on this beast of a run twice and both times turned out to be quite an epic adventure.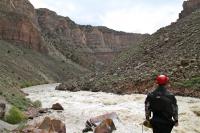 Another run I went to was Slater Creek. Not only did we get stuck in the snow for two hours attempting to take a shortcut, but we also had to rope boats out a quarter mile from the main drop, ( a twenty foot slide into a thirty footer) because of a tree. Slater Creek was at ridiculously high flows and I claimed a highest recorded descent (1200 CFS) of this beast. All in all Slater Creek ended as a great park and huck.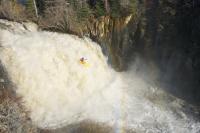 Lastly, was the competition at Steamboat Springs, (Steamboat Springs Paddlelife Pro Invitational) which included a creek race on Fish Creek, and a rodeo on the Yampa River. Although we did not have ideal temperatures or flows it turned out to be a great competition. I ended up seventh in the creek race and eight in the freestyle. Next is Glenwood wave and Teva Mtn. Games. Another update is coming soon.