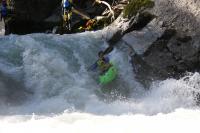 For the 5th time in a row the adidas sickline extreme kayak world championships took place in Oetz/Austria at the weekend again. Great weather, perfect water levels and organization and especially the impressive list of world class kayakers made the event as amazing as every year.
As I finished 3rd in 2010, there was a quite a bit of pressure on me. My two qualification runs were all right, putting me in 12th position for the head-to-head final on the more difficult section of the river. I was able to win my first duel against Tomass Marnics, although we both had big problems at the so called "Champions' Killer" (see picture above), the last drop before the final sprint. This took me to the next round against Michele Ramazza. Apparently, he had a really solid run, but I struggled at the last drop again. That was it, too slow, no super final (top 15) for me this year. I finished 22nd in the end. Well, I've already analyzed my mistakes and am looking forward to next year, then racing in the new Pyranha Shiva! Even if this was certainly not my best extreme race so far, I enjoyed paddling the Wellerbruecken-stretch of the Oetz River anyway.
Just like last year, Sam Sutton took home the WC-belt with an outstanding final run. Mike Dawson finished 2nd, Germany's Paul Boeckelmann 3rd – congratulations to all of them! 7 paddlers finished within only one second, which meant some really tight racing and absolutely no room for mistakes.
For more information, full results, the (re-)live webstream of the super final and more photos, please visit www.adidas-sickline.com.