Finally, I've been able to drive to Lipno/CZE for the annual dam release of the Vltavou River, which creates some of the best wildwater sections in the Czech Republic and attrackts hundreds of paddlers from basically all over the world. I've wanted to go there for years, but somehow it never worked out; now I'm glad I've eventually been there – and it definitely won't have been for the last time!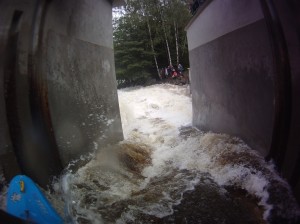 Besides massive groups of "just-for-fun-paddlers", several events took place in Lipno throughout the last week: Rafting (European Championships – my club mates won that race!), Downriver Sprint and finally an Extreme Race, which I competed in.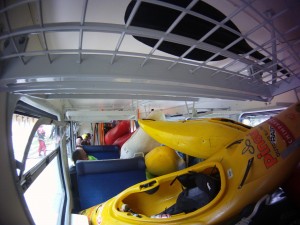 The mode of this event was great: First off, a pretty tricky slalom competition where only the first 33 of the overall 60 – 80 paddlers were able to advance to the next round. Due to the difficult setting of the course, the competition was already over after that for a couple of top racers. The next round was an individual sprint race of about 4 min. of class 3-4 whitewater. I was able to rank on the 5th place there, which took me to the final together with 14 other strong paddlers. Around 13 min. of class 3-5 whitewater meant some serious endurance paddling. Unfortunately, I was off the line a couple of times during the last third of the course, which put me in the 13th position in the end. Even though a top-10 ranking should have been possible for me, I'm pretty happy that I was able to compete in the final round as the only German. Congrats to the podium: 1st Mike Dawson/NZL, 2nd Eric Deguil/FRA, 3rd Michele Ramazza/ITA!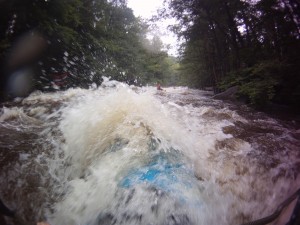 In my opinion it's pretty remarkable that 5 Pyranha Shivas where in this year's final of the Devils Race. Certainly a proof of the great racing qualities of this boat!
Together with my club mates Markus Hummel and Thomas Funke I ranked on the 5th position in the team race, which the Kiwis (Mike Dawson, Sam and Jamie Sutton) dominated.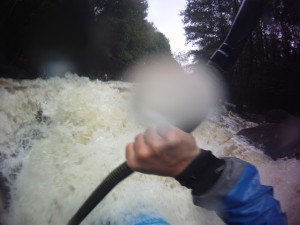 Thanks to the couple of days of awesome paddling and joining up with friends in Lipno, I'm going to be back there next year for sure.
Ceck out some pictures I've taken with my Actionpro-Headcam. For more information, results etc. visit www.devilsextremerace.com. Thanks to the organisators for this great event!