In July, it will be 40 years since Albert Kerr from Carlisle Canoe Club, won the World Slalom Championships in Spittal Austria, using a Pyranha Elite Equipe.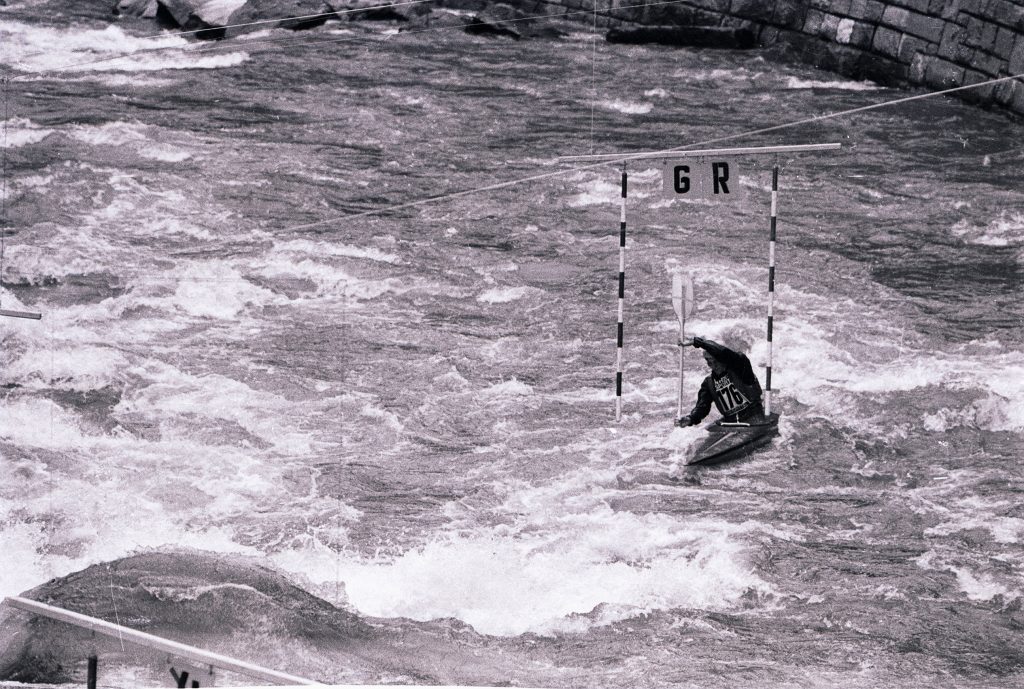 Albert's super-human performance was a surprise to many, though not to those of us who knew him; the local paper the next day was headlined, 'Mr. Nobody Wins the World Championships', but Albert was far from that, proven by his 11 second winning margin.
Only once before, in 1959, had a Brit won a Worlds when Paul Farrant won in Geneva, and since then we had some great paddlers with Dave Mitchell gaining a Silver, but German manufacturers had a stranglehold on design, with the British Team often only getting last year's models from Klepper, then Prijon and Lettman.
I had been to the annual Easter slalom at Grandtully with my early slalom designs in 1974, and said to a friend, Tony Young, that I would make a world competitive Slalom Kayak, and set about a development programme with annual design evolution (an approach which has remained central to Pyranha to this day).
In 1975, we had developed a new design, the Elite, which we cut down for the Elite SS, and I supported Nicky Wain, Alan Edge, and Peggy Nutt (later Mitchell) with Nicky and Alan coming a great 7th and 8th in the Skopje (Yugoslavia as it was then) Worlds.
For 1977, the design evolved to the Elite Equipe, and to try to ensure it was right, Nicky Wain, Alan Edge, Albert Kerr, and I drove the Pyranha van out to Spittal to recce the Worlds course.
The boys were on form, and we thought we had the design right, though Albert, the strongest, and occasionally the most inconsistent, wanted a bit more volume, so we added an inch (25mm) in the gunwales for his race boat. Made of Kevlar and Vinylester Resin, they weighed 17 lbs (7.7kgs) with their red glitter decks.
On race day, Albert went very early on as he was not one of the favourites; his speed and clean run was a shock to many, and one by one they tried to beat him. Albert made one break out in particular which nobody else could make, setting a very high bar for the others.
The spectators lining the road along the course and in the grandstand roared encouragement to their local heroes.
The British Team supporters ran down the road following their athletes cheering them on, 'UP! UP! UP!', trying to make up for the lack of noise and encouragement from the other spectators.
When a gate was hit, the spectators would fall silent; when the time wasn't fast enough, they would fall silent, and cheer again when the next hero started. One by one they failed; Dieter Forstl, Germany's great hope failed, and then the super local hero, Austria's great Norbert Sattler, Olympic Silver medallist at Munich 5 years previous, started his run; the crowd roared louder than before, willing him on. His time was close to Albert's, gate after gate was clean until close to the end, he hit a pole; the crowd went silent, for a split second you could hear a pin drop, and then the British supporters went berserk.
Albert had won, and the Slalom world shifted on its axis.
I remember looking up at a blue, cloudless sky, and thanking God; I was totally drained. Countless people and manufacturing competitors congratulating me; our design was good, but it was Albert's day, and I will always be grateful to have helped.
After Mike Jones and his team's Descent of Everest's Dudh Kosi the year before, Albert's win was massive for Pyranha, but it was also massive for Slalom in Britain; it gave others confidence to achieve the same, and this then led to Richard Fox's domination, and many other paddlers becoming World Team Champions alongside Albert and then Richard.
Pyranha went on to see our Kayaks and Canoes win at the Worlds for the next decade, until we retired to focus on polyethylene production and river running designs.
I have witnessed the feats of some great athletes since then, worked with great people, made great friends and many great memories, but that day at Spittal is still "The Day"!