Below, Adam Goshorn takes flight off his favorite boof in Little River Canyon, photo by Joey Jarrell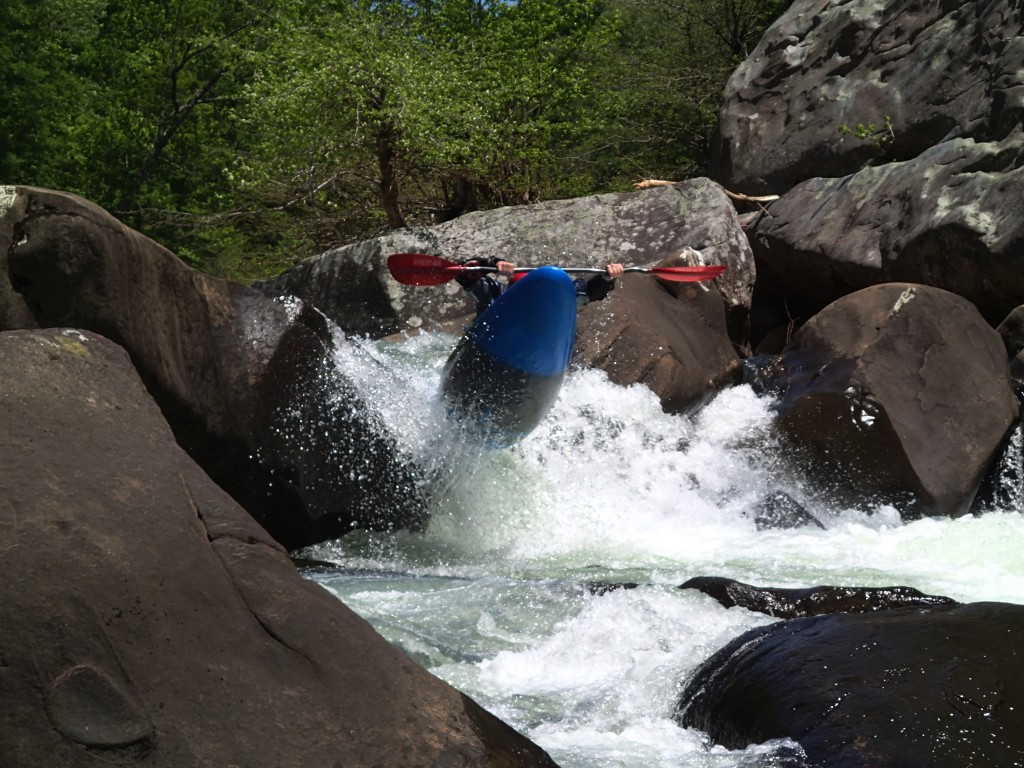 I know… I know… it is fall and yet, here I am finally putting up the last of my media from the winter and spring, but better late than never.  Unlike the spring of 2013, which was unusually wet (see video HERE), north Alabama experienced only average rainfall in the spring of 2014.  Luckily for those of us that call the region home, average rainfall is still enough to provide plenty of consistent paddling opportunities from Dec-May… albeit with a bit less variety.  We did have the opportunity to explore McWhorter Gulf in April, which had been on my wish list for years (see pictures and video HERE).  However, with that exception, this year most of the Alabama paddling season had us sticking to the classics that have large watersheds and run most consistently.
Below, my wife Shannon Goshorn choosing a creative way shorten a portage in Little River Canyon (photo by Joey Jarrell).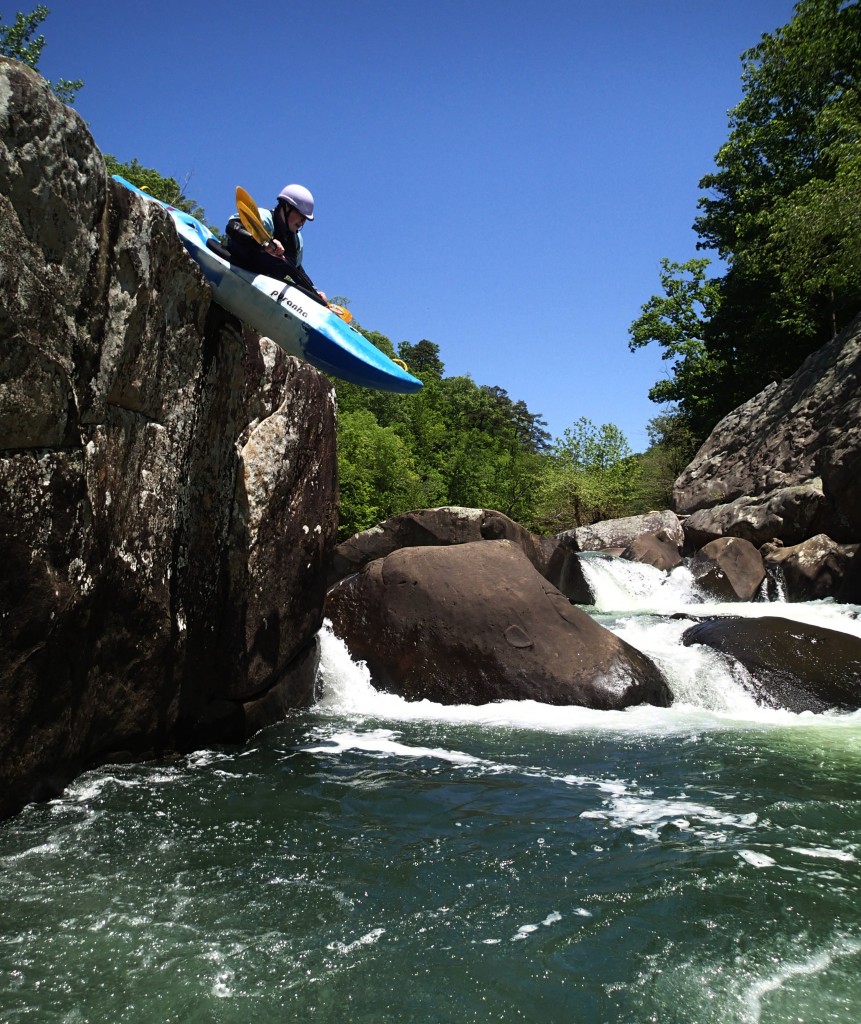 Little River Canyon is the bread and butter for the north Alabama paddling scene and keeps our addictions fed for much of the year.  With a variety of sections suitable for paddlers of every skill level and a watershed that keeps it running for about six months out of the year, it is hard to beat… being ten minutes from my house doesn't hurt either!  My video, This is the LRC, that was posed earlier this year, showed a variety of lines on Little River Canyon at low and medium flows (if you missed it, you can find it HERE).
Below, Pat Smith taking the boof line on Bottleneck in Little River Canyon, photo by Adam Goshorn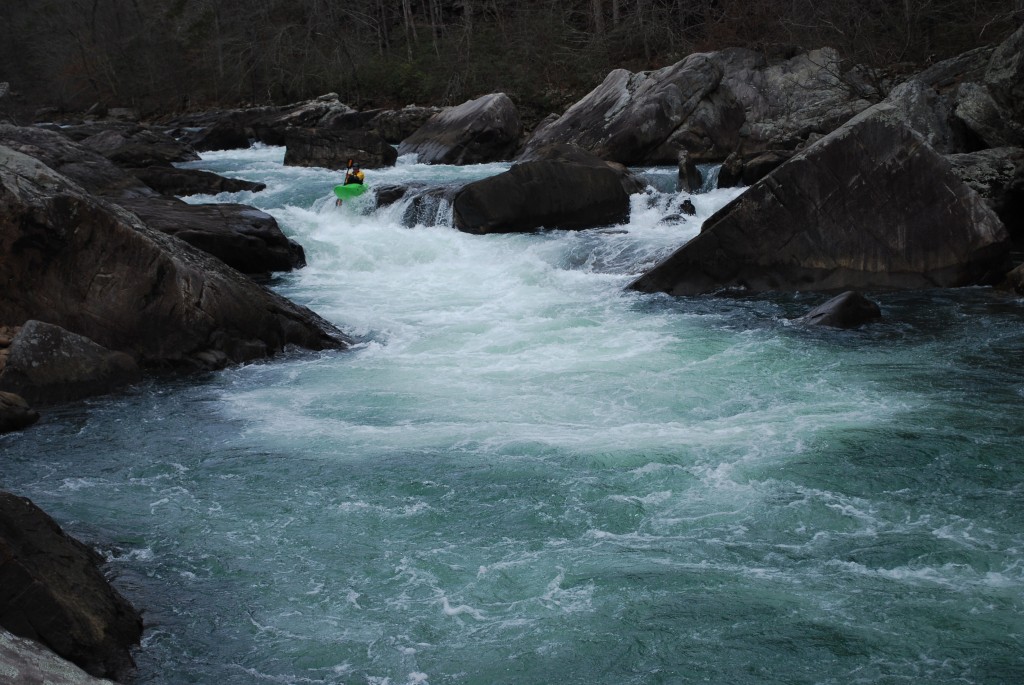 Town Creek is another classic for the north Alabama paddling community.  It has a large drainage and cuts a canyon into the side of Sand Mountain as it makes its way down to Lake Guntersville.  Town Creek is known mostly for being a good introduction to creeking for the class III crowd, but that reputation really only references paddling the lower section at low flows.  If you add more water (anything around 1000 CFS or more) and/or either of the large bedrock features upstream of the normal put-in… Town Creek becomes a fun run for more advanced paddlers too.  At the put-in for the upper section is a long bedrock slide that was once the site of an old mill and develops quite a stomping hole at high water.  At the put-in for the lower is a 30-foot cascade that occasionally gets run at high water.
Below, my wife Shannon Goshorn running the mill slide on the Town Creek, photo by Adam Goshorn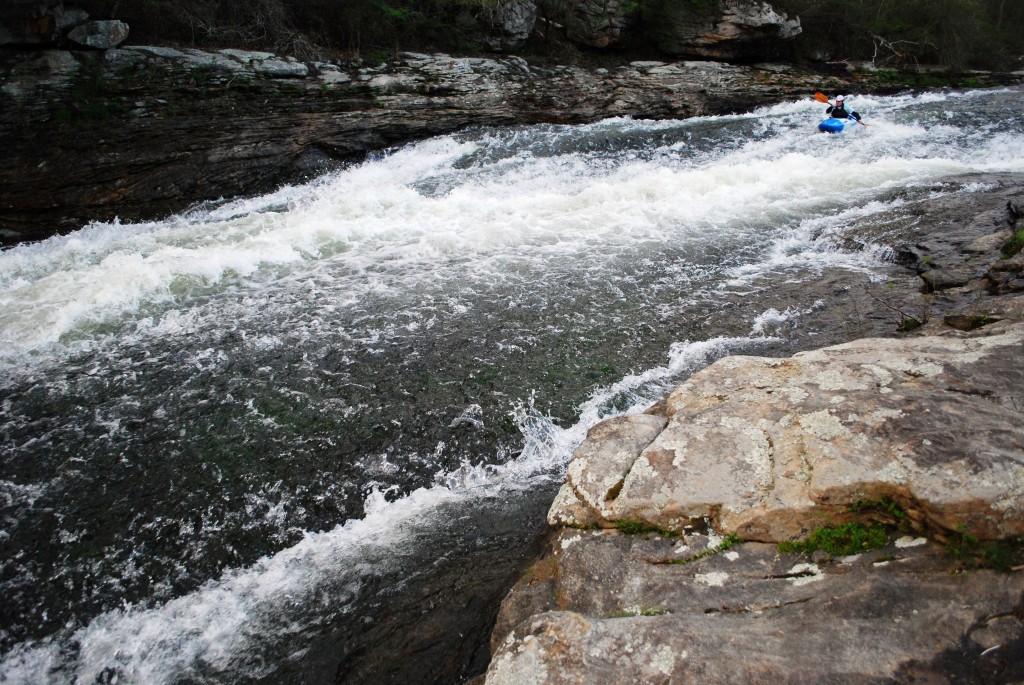 South Sauty is a classic creek on Sand Mountain in north Alabama and at most levels it is considered by most to be not-too-threatening class IV.  It doesn't run quite as consistently as Little River Canyon or Town Creek, but it has a large watershed and is probably the second most reliable run of similar difficulty in the area.  In addition to fun rapids and great scenery, South Sauty keeps everyone smiling, in part, due to its easy logistics.  Unlike many of the creeks in the region it doesn't require hiking in, hiking out, or a lake paddle… making this fun run lap-able for those who find one run not enough to quench their thirst!
Below, Pat Smith boofs the falls that are just a few paddle strokes below the put in (photo by Adam Goshorn).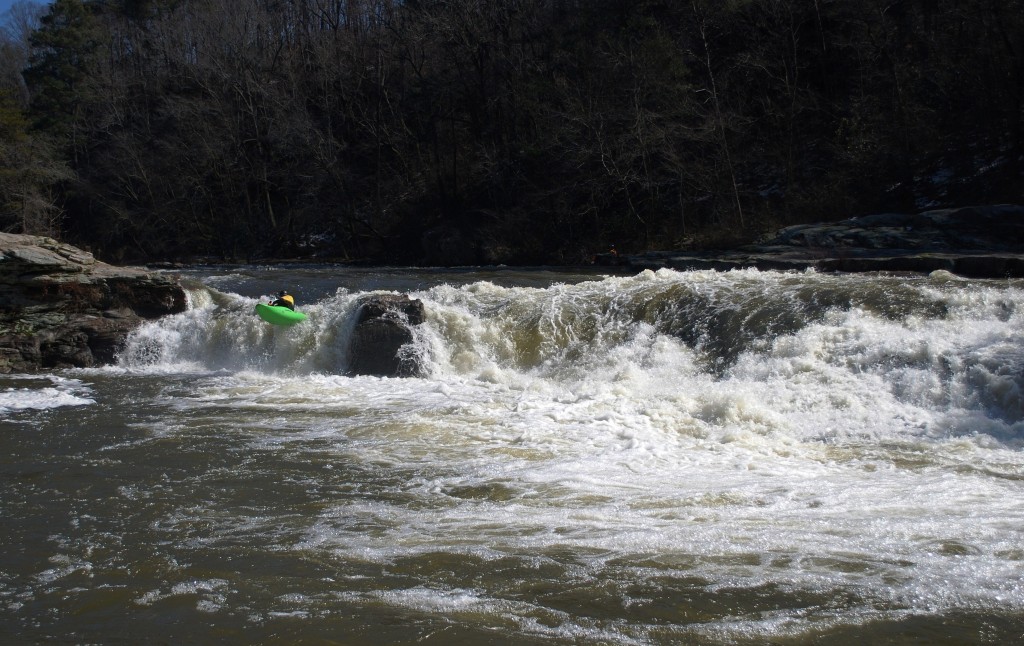 Bear Creek, known locally at Teady Bear, is a tributary that enters Little River Canyon just upstream of the access at the Chairlift Trail (a.k.a. Eberhart Point).  The upper section consists mainly of large bedrock slides and takes a really big rain event to become runnable.  Lower Teddy Bear takes less water than the upper, so it runs more often.  It also has less bedrock features and instead is composed mainly of boulder rapids.  Unfortunately, I was only able to catch Lower Teddy Bear once this year and at a fairly low level… but catching it at all is pretty fortunate and we were able to follow it up with a quick lap down Johnnies Creek right before dark on the same day.
Below, Jesse Carter picking his way down Teddy Bear Creek at a low level, photo by Adam Goshorn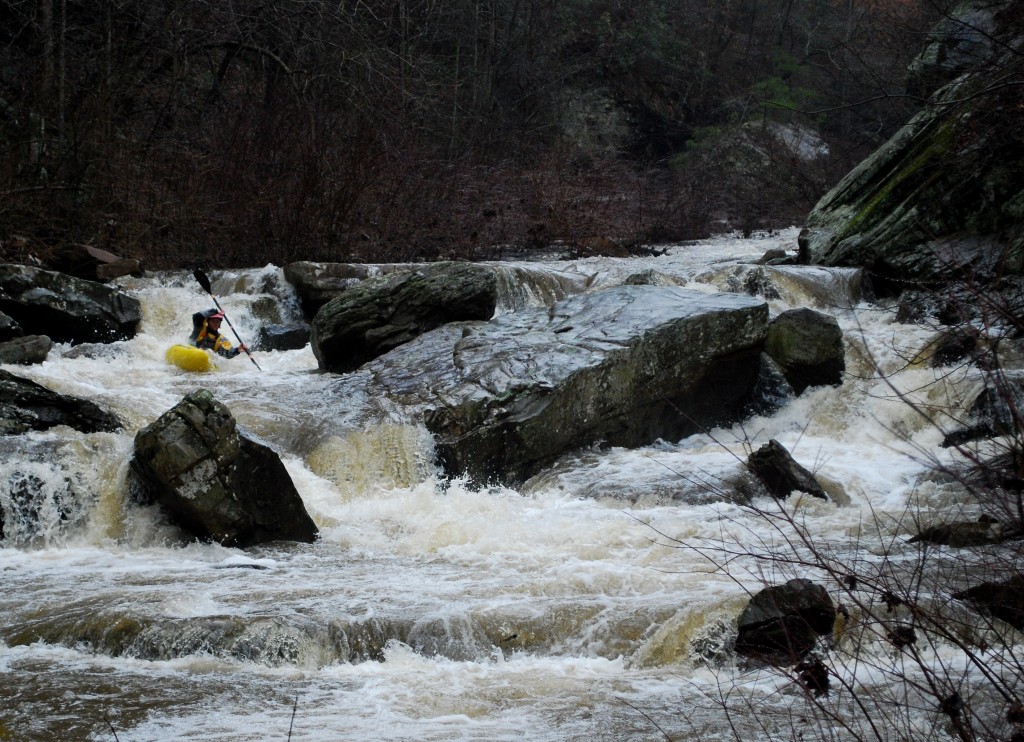 All told the spring of 2014 was another fine example of why I choose to make my home here on Lookout Mountain in north Alabama.  Even in a year such as 2014 that wasn't very extraordinary at all, there is still a high quality paddling season to be had at a time of year when much of the northern hemisphere is iced-in and only dreaming of paddling.  All of the runs described here (as well as a plethora of others) are all included in the new, soon-to-be released, guidebook: Whitewater of the Southern Appalachians, by Kirk Eddlemon.  I'm proud to be a contributing writer and photographer as well as featured in several photographs by other people.  If you haven't already be sure to check out the Facebook page for this book (https://www.facebook.com/SEWhitewater) where you can see sample pages and get information about it's availability, which should be sometime this winter… its going to be awesome!
Below is a compilation of footage from boating around north Alabama in the spring of 2014 that was left over after my other video projects… edited to some classic Hackensaw Boys bluegrass!  Enjoy!
Until next time…
Adam Goshorn
Below, Ky Hart boofing his way into Watfall Rapid on Bear Creek, photo by Adam Goshorn