The exposed mine shaft to the right of the gushing torrent draws heavy on the eye.
Hidden deep within this mine pure gold, true Welsh gold and a royal favourite.
The fall, a large stepped affair, sits to separate the classic upper and lower Mawddach in Coed y Brenin, Wales
Its splendour enticing generations of young tigers to scout, to dream a line and to be one of the limited few..
Each new descent taking inspiration from the past.
The latest 11 descents, the new generation, taking place from 2011 a full 3 years since the precursor.
Jonny(08), Dave and myself (05).
We filled the middle years of exploration a decade and more after true pioneers Mel and Phil.
Although Loels solo trip a while later is amazing in its own right.
Its no mistake that some of these names are lost to history.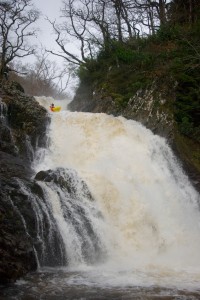 Its a fall of legends both new and old. A fall of stories and myth.
The latest descents, with the rising stars of the paddle scene the so called Dembrits.
Bren, Dave and Jen show how influential this rapid is to the culture of river running in Wales.
Dave Bain says "Since you and Cookie took me down the Mawdach at aged 13 I have always been inspired by the drop"
The first descents taking place at the birth of the mountain bat, a descent older than 18yr old Bren Orton.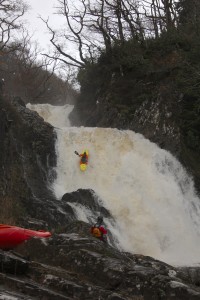 Descents over the last 20+ years are still under 20. The line is committing at best.
Dave Thompson, one of the first paddlers to run this cascade describes it:
"it doesn't matter what the line is, gravity will win".
Is it no longer a dream but reality.
What of future games, of generations coming through the ranks does it still hold the gaze?
Ask yourself what if…
…What if the sister fall Pistyll Cain ever gets run…