We continued East towards the Enguri, which I'd heard a bit about. It was clear to see why it was labelled as such a big project and would be beyond our small team at this time of year. We paddled a couple of tributaries of this mighty river, the Nenskra & the Mestia, with completely mixed fortunes on both. The first had a good big volume feel to it, getting progressively harder towards the confluence. We decided to get out about 1 km from the end, before it became walled in class V+ & VI, but having descended some tough rapids in front of the whole village. The second had some bedrock gorges every few kms, but each one of these that we scouted was impassable due to stuck trees. We did attempt a section, but this ended with a 40m climb out.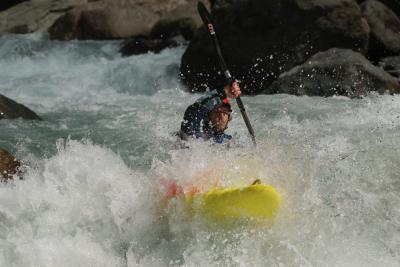 The next river we did was in-between two larger drainages and I originally didn't think it would be up to much. I was just hoping for no trees. What we found was the highlight of the trip. The upper section was great and straightforward. The second day was a 22km class IV+/ V gorge that was mentally challenging but so rewarding. There was some brilliant moves, lines and close encounters. We both left the river exhausted but on a massive high.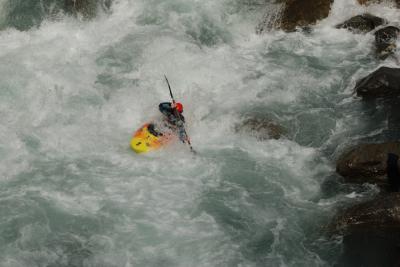 Our last river, the Rioni, we did with a raft group. This has some harder sections and we set about documenting the river for the rafting clients in return for food and vodka. This was a really cool relaxed way to end the boat part of our trip.
We had a few more cultural days planned before we head home. The cultural stuff is the extra bonus that makes Georgia such an attractive place to visit. For more info visit www.chriseastabrook.co.uk/biography/blog.