First, I would like to say 'thanks' to Zoar Outdoors and the Zoar staff for helping create this year's whitewater symposium.  The 2009 Whitewater Symposium was the first I ever attended.  If you have an interest in whitewater sports and it's continued growth in the future,  this is an event you definitely should consider attending next year.  Personally, I instructed a creeking class and presented 'Demshitz The Movie.'  I had the opportunity to learn from several presentations covering current issues ranging from creating media in the sport to conservation and access issues concerning our endangered rivers.  I leave this event with greater knowledge of how to build our sport as well as the work involved to keep our rivers open for business.
 
A creative way to teach demshitz how to role.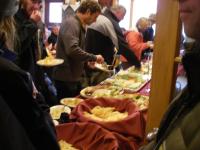 Lunch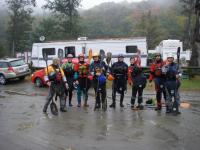 My class about to become better creek boaters.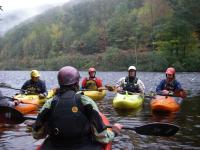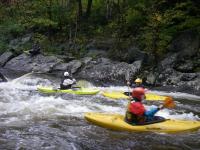 Lucas, myself,and Kenny dissecting the Zoar gap.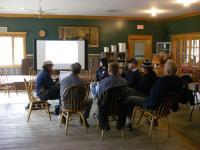 One of the few presentations at the Symposium.
 
Again thanks to Zoar Outdoors for a great weekend. Â My next stop is the Moose Fest. Â If you have not been to the Moose I highly encourage you to make the drive. Â Big clean drops, big party and Demshitz the Movie. Â Come it's a celebration bi%$#(s. Â Hope to see you there. Â Here is a video from last year.