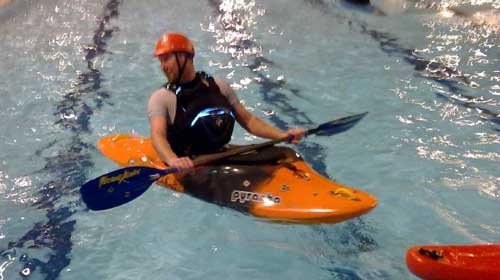 The Winner Of The Canoe and Kayak UK Varun Competition
To launch the Varun last year we ran a competition in conjunction with Canoe and Kayak UK the prize, a Varun of course! Lee Brownsword was that lucky winner and after a few months to get used to his new toy this is what he had to say...
'To say I was excited when I found out I had won is a massive understatement. It was delivered before Christmas (just) as our worst winter for many years hit our country. After careful negotiations I was allowed to keep it in the living room for nearly two weeks!!! My apologies go out to my family for my 40-year-old child like giddiness. On a positive note I stopped at putting tinsel and a fairy on it!!
I was very concerned I would not fit in the boat being on the tall and heavy side. I am 6ft 2" in old money and on the wrong side of 105 kg, which I thought was very close to the weight limit of 108kg. I should not have worried as the boat fits lovely with a bit of wriggling and floats surprisingly high. I was worried the boat would sink when I sat on the stern to get in but happily not the case.
The connect fittings on the boat are perfect and arguably the best and safest I have used making it very easy to make yourself comfortable, feel part of the boat yet still not make you worried you cant get out if you need to.
The hull is one of the best looking boats I have ever seen and does draw people in from over half a mile away. Turn your back and somebody else will be having a quick go to test it for you. They can then be picked out by the manic smile taking up most of their face and their reluctance to give it back. (You know who you are)
I am not a hardened play boater nor the best river runner, what I do know is the Varun is a little bundle of fun keeping me right side up when I want it to yet rolls easily even with my untidy roll. My better half commented on my roll " it's like Godzilla coming out of the depths when you roll" so it needs more work then! The Varun is so easy to paddle in a straight line and does make me look a better paddler than what I am, goes on edge so easy and spins on the spot on request, fits in the tiniest eddy and loves to surf river waves, everything I want from a boat.
It is such a quick hit of what kayaking is all about so much fun and even fits in the boot of my Nissan estate so any spare time can be a trip to the nearest wet stuff for a quick fix. I can't tell you how much I love this boat.
Thank you to Canoe and kayak magazine and to Pyranha who have a little gem of a boat on their hands.
All the best Lee Brownsword (with manic grin )'
November 2012


---
August 2012


---
July 2012


---
May 2012


---
March 2012


---
January 2012


---
December 2011


---
November 2011


---
October 2011


---
August 2011


---
May 2011


---
April 2011


---
March 2011


---
February 2011


---
January 2011


---
December 2010


---
November 2010


---
October 2010


---
September 2010


---
August 2010


---
June 2010


---
May 2010


---
April 2010


---
March 2010


---
January 2010


---
December 2009


---