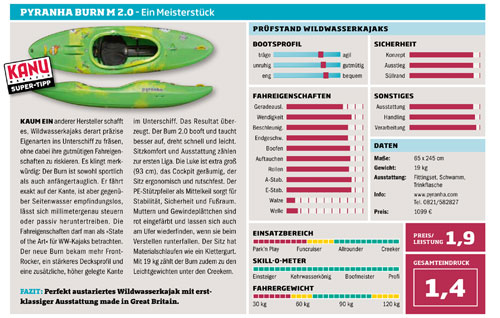 Pyranha Burn 2010 - a Masterpiece!
The latest edition of Kanu hails the new Burn a Masterpiece of WW design, below is the translation of their review...
German Magazine Kanu award the New Burn 'Super Tipp'
Pyranha Burn - a Masterpiece!
Rarely any other manufacturer before Pyranha was able to install such precise steering features into the hull of a kayak, without taking the risk to lose its good nature!
It does sound strange: the new Burn is both very sporty and precise to make experts happy, but also forgiving to help beginners!
It runs exactly on its rails, but is not affected by currents from the sides, it can be both manoeuvred exactly to the millimetre but also just cruise down a river with only little paddler-action required.
The way the new Burn handles and runs definitely can be called "state of the art of WW-kayak-design"!
The Burn 2.0 has got more volume and rocker in the front, a stronger deck-profile and an additional, lifted edge in the hull. The result is impressive!
The Burn 2.0 is boofing and re-surfacing much better, it turns fast and easy!
The cockpit and specification is premier-league!
The cockpit-size is extra-large, plenty of space and very comfy, the seat is ergonomic and non-slippery.
The PE-centre-pillar supplies stiffness, safety and space for legs.
Nuts and washers are coloured in red, so they can't get lost on the river-bank.
The seat has gear-loops like a climbing-harness.
With its 19 kg weight, it is a light-one amongst the creeking-kayaks.
In summary: perfectly balanced white water-kayak with a premium specification made in Great Britain!
(Translated by our good friend Wolfgang at KanuTreff and Lauren Mackereth)
November 2012


---
August 2012


---
July 2012


---
May 2012


---
March 2012


---
January 2012


---
December 2011


---
November 2011


---
October 2011


---
August 2011


---
May 2011


---
April 2011


---
March 2011


---
February 2011


---
January 2011


---
December 2010


---
November 2010


---
October 2010


---
September 2010


---
August 2010


---
June 2010


---
May 2010


---
April 2010


---
March 2010


---
January 2010


---
December 2009


---