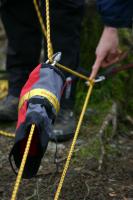 This past week the first UK Rescue Symposium for 12 years took place in Llangollen. I was down running some sessions on the use of rescue kit – entrapments and the use of throwbags. I was also giving information on the new BCU White Water Safety awards.
The Saturday saw a variety of workshops take place in the hall. Sunday it was time to take the workshops out onto the water.
Franco's first aid training for paddlers proved to be popular with skills gained in improvising with paddling kit. Sunday they looked at how to stabalise and move casualities.
Dino was hand to help paddlers understand the power of the vector pull!
Bob looking at kit issues!
Jules demonstrating how to use a sling / tape to form a prussic.
Ali showing folks how to weld.
The event proved to be a success and hopefully will be back again next year. 12 years between rescue symposiums is a bit of a wait.
Congratulations to Stuart and his team at Canoe Control for bringing it alltogether.
Play Safe.