Water is still a little low out here in Colorado, but it didn't stop the 28 kayakers from breaking out the boats for a little racing.  Saturday marked the 4th annual Monarch Mt. snow boatercross.  As far as anyone knew it was the only one of its kind and it was more fun than I could have imagined.  They built the course the day before but it had not been tested by a boat.  I decided to probe the course for them…..needless to say, after my probe run we determined it was way too fast and dangerous as I flew across the pond and over the padding that was supposed to stop me. They shortened and slowed the course in an attempt to minimize the chances of a broken neck!
(Photo by Kaleb Timberlake)
It was basically a giant bob sled course with the finish line on the back side of a slushy pond.  It was a pretty standard boatercross set up.  Heats of 4 with the top two advancing.  After 4 extremely fun and exciting rounds I ended up taking home the gold and making a little cash!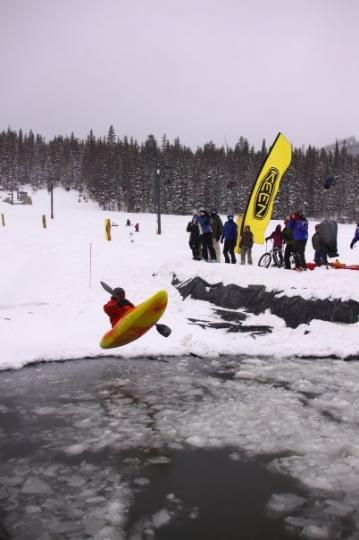 (Photo by Kaleb Timberlake)
I have been getting the Karnali out on the river training for the upcoming racing season and have been impressed with how fast it is, but had no Idea it would be the ideal race boat for snow as well.  HA!
The most exciting/scary part of the day was watching two of the raft teams fly out of the course full speed into a wooden shack on the mountain sending one guy to the hospital.  Fortunatly the injurys were not too serious.
I will definitly be back to this event next year!